Is there anything that a strawberry doesn't make better? Not only do these beautiful berries make both sweet and savory dishes sing with the flavors of the season, just the smell of them lifts my mood for the better. 
This recipe for Strawberry Chocolate Greek Yogurt Tart (with Gluten-Free Coconut-Almond Crust) is made in honor of my mom on a past Mother's Day. Read on to get the recipe and find out why I picked strawberries over other berries — you'll be surprised.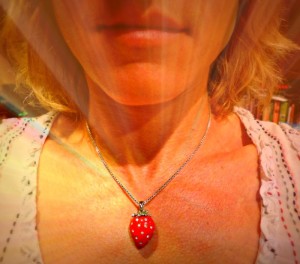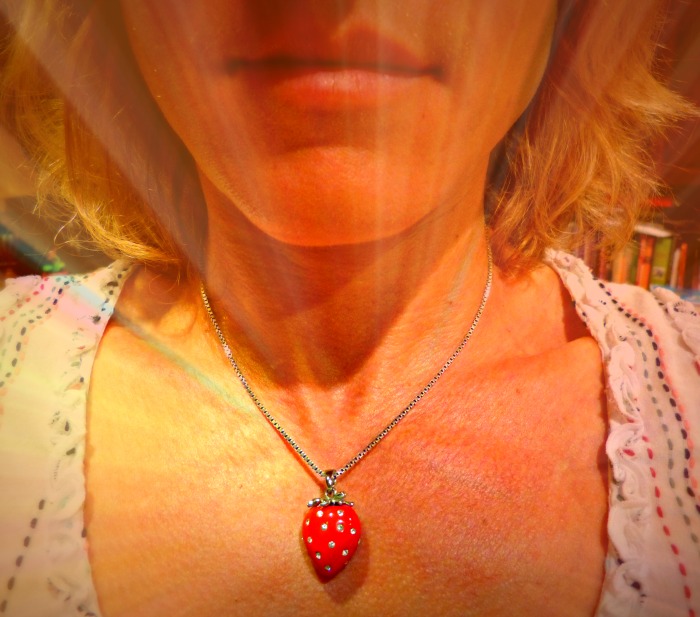 So I made this delicious, healthy tart for a couple reasons. First, as a thank you and wink-wink to my mom for taking my on a girl's getaway to New York City and treating me with this adorable strawberry charm as an impromptu purchase from a street jewelry vendor. I love it.
And, of course I picked strawberries for their trifecta of beauty, taste and nutrition. Strawberries are low in calories and high in vitamins C, B6, K, fiber, folic acid, potassium and amino acids. And, here's a strawberry fact that even makes my fitness better – the high levels of nitrates in strawberries increase blood and oxygen flow to my muscles which researchers believe may improve endurance. So, what do I have to do to sell YOU on the straw-better-berry? Probably not much since the California Strawberry Commission reports that 96% of Americans eat strawberries, with at least half of those enjoying the juicy goodness at least once per week.
This good-for-you Strawberry Chocolate Greek Yogurt Tart (with Gluten-Free Coconut-Almond Crust) is good for everyone, and I'm not just talking about the strawberries. The crust is also gluten-free and grain-free — as well as Paleo, although the filling made with Greek yogurt is dairy (aaaah, yeah for all the bonus protein you'll be getting.. There is no added table sugar, just a touch of honey in the crust and some stevia in the yogurt — and whatever comes in the chocolate I spread melted right on top of the crust to serve as a tasty barrier that keeps the crust from getting soggy.
Strawberry Chocolate Greek Yogurt Tart (with Gluten-Free Coconut-Almond Crust)
Almond-Coconut Crust:
½ cup unsweetened shredded coconut
2 cups almond meal
1/2 cup coconut flour
3 tablespoons coconut oil, melted
2 tablespoons honey
1 teaspoon salt
For Tart Filling/Topping:
2/3 cup semisweet chocolate chips
2 cups no-fat plain Greek yogurt
1/4 cup cocoa powder
1 teaspoon liquid Stevia, or to taste
1 pint fresh strawberries, hulled and sliced
Instructions: 
Preheat oven to 350 F degrees. In a food processor, pulse together shredded coconut, almond meal, coconut flour and salt until finely ground. Melt together coconut oil and honey and add to crust mixture. Pluse until coarse crumbs form and dough holds together when squeezed between fingers.
Grease 11-inched fluted tart pan with removable bottom. Place dough into prepared pan and use back of measuring cup and fingers to evenly press dough into bottom and sides of pan.
Bake in center of oven for approximately 15 minutes or until turning golden brown. Remove from oven and sprinkle crust with chocolate chips; return to oven for approximately 2 minutes, or until chocolate chips soften.
Using the back of a spoon, spread melted chocolate chips around bottom and sides of crust. Place on wire rack to cool completely, approximately 30 minutes.
Meanwhile, make filling by sifting cocoa powder into yogurt and stirring until completely incorporated.  Mix in stevia to achieve desired level of sweetness.
After crust has completely cooled, spoon in chocolate yogurt mixture. Top decoratively with slice strawberries. Serves 12.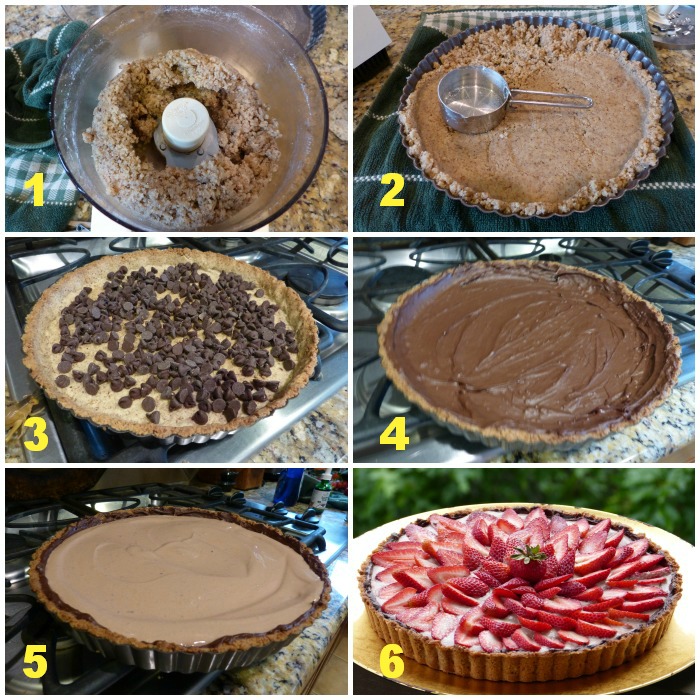 What's your favorite strawberry dish or memory? Please share in the comments! XOXO – Jennifer