Do you have any recollections of traditional Sunday dinners with grandparents, parents, siblings and other relatives all gathered around the table? When Foodie.com asked me to share a post on the topic, I knew it would be easy because I have lots of great memories.
When I was a young working adult and newly-married wife, my grandmother and aunt would host a Sunday dinner in the middle of the afternoon complete with huge roast, ham or turkey and smorgasbord of sides – plus there was always a super yummy dessert. This spread was cooked with so much care and attention, the frequent non-family guests would always think we were celebrating some sort of special occasion – and we were! The special occasion was the company of each other and reminiscing about our collective past and sharing dreams for the future – in addition, there were always plenty of funny jokes and good-natured ribbing to go around. An extra perk for me was to see the making of secret family recipes firsthand and to learn great food tips from these two fabulous home chefs in the family.
My grandmother is long gone and I live in a different city from my aunt today. But, I am blessed to have parents now living nearby and three children of my own; that's why we try to get together as often as possible to share meals – and happy news, hopeful plans and lots of hugs.  Often these meals don't happen on Sunday and they are usually not as elaborate as the traditional meals prepared by the earlier mentioned matriarchs – but we are still together breaking bread and making memories. Sometimes we do pizza as a treat for the kids, but often I try to keep it healthy by putting quick and nutritious salads and grilled kebabs on the menu
In addition to making kebabs outdoors on the grill, whipping up a big entrée salad is one of my favorite Sunday dinner ideas – especially on those busy weekends that are packed full of sports, church and volunteer activities. A big salad, like my recipe for Speedy Salad Nicoise, come together in just a few minutes, especially if you have already pre-grilled or roasted your lean protein. That's one of my favorite tips for a busy week – I'll crockpot a big chuck roast or grill a huge tray of chicken breasts or salmon to eat throughout the week.  Add a rustic loaf of bread, some flavorful compound butter . . . . and uncork a bottle of wine (plus apple cider for the kids) and you have all the makings for a special meal that brings together those who are near and dear.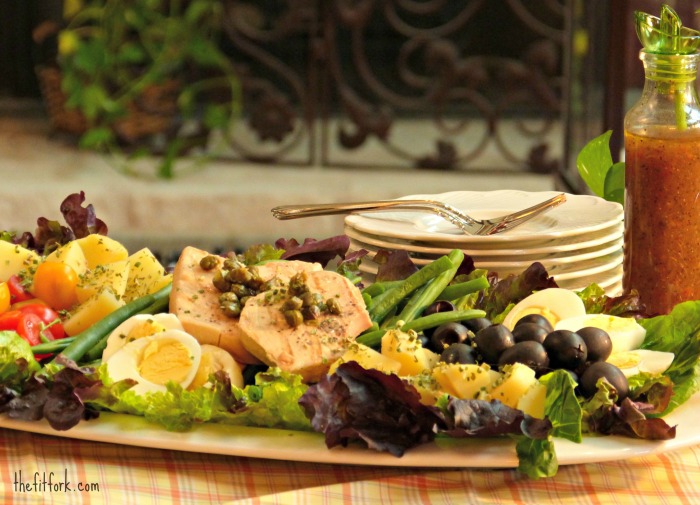 Speedy Salad Nicoise Recipe
Serves:  4
3/4 lb. trimmed green beans
4 small red potatoes
1 head of Bibb, Boston or artisanal Romaine lettuce
½ pint halved red and yellow cherry tomatoes
½ cup drained Nicoise olives
2 (4-oz) pouches drained premium albacore tuna steaks
2 Tbsp. drained capers
1 Tbsp. fresh chopped parsley
1 Tbsp. fresh chopped chives
 Add eggs to large pot of water and bring to a boil; allow to gently boil for 1 minute. Remove from heat and cover for 10 minutes. Transfer the eggs to a bowl of ice water. Drain, remove shells and let eggs cool. Slice or quarter eggs lengthwise; set aside.
Add the green beans to pot of water and par-boil for 2 minutes. Lift out with tongs and rinse in colander with cold water.
Return the water in pot to a boil, adding more water if needed. Add the potatoes and boil for 15 minutes or tender. Drain and transfer to a bowl to cool. Peel potatoes and quarter or cut in large chunks.
On a large platter, arrange the lettuce, sliced eggs, green beans, potatoes, halved tomatoes, and olives. Drain tuna steaks from their packing liquid and place in center of salad; sprinkle with capers. Dust entire salad with parsley and chives. Drizzle with vinaigrette. Serves 4.
And, if you have leftovers you can bottle them up for lunch on Monday. Just pile everything in a Mason jar with the sturdiest ingredients on the bottom (including the dressing) and the most delicate on top. When hunger strikes, turn the jar upside down, give a few shakes and pour on a plate (or eat straight from the jar)!
I'd love to hear your favorite Sunday dinner memory or recipe, please share in the comments!
This post was sponsored by Foodie.com.