I have no regrets about living a (mostly) clean, healthy lifestyle and saying "no thank you" to a lot of temptations like margaritas, donuts or never-ending breadstick baskets. However, one of the most difficult break-ups in transitioning to a higher protein diet was with pancakes – big, fluffy stacks of carbo-overload yumminess covered in sugary syrup.  
So, you can only imagine how thrilled I was to discover About Time Protein Pancake Mix – it's a hearty, healthy breakfast that offers 21 grams of protein and 6 grams of fiber for about 290 calories. And, it still tastes like delicious comfort food! For me, this pancake mix offers an optimal serving size of protein – I try to take in between 20 – 30 grams during each meal (and snacks). Actually, I learned last year from nutrition researcher, Dr. Heather Leidy, that eating adequate protein in the morning can help curb unhealthy snacking later, even much later, in the day.
The Chocolate Chip Protein Pancake Mix (Cinnamon Spice also available) is so easy to make – even on busy mornings (or make ahead and freeze)!  Of course, being a fit foodie, I always have to put my spin on things, so I came up with this "recipe" for Tart Cherry & Chocolate Chip Protein Pancakes. Super simple — I just swapped out cherry juice for some of the water called for on the package and defrosted frozen tart cherries, mashed them with a fork and mixed in stevia and unsweetened, plain Greek yogurt. YUM!
Tart Cherry & Chocolate Chip Protein Pancakes Recipe 
1 cup dry About Time Chocolate Chip Protein Pancake Mix
1/4 cup tart cherry juice
¼ cup water
1/3 cup frozen tart cherries, defrosted
6 ounces unsweetened, plain Greek Yogurt
¼ teaspoon liquid stevia (or, more or less to taste)
Garnish – mini chocolate chips
Whisk together dry mix with cherry juice and water until just blended.
Heat skillet to medium heat (about 325 F degrees).
Cook pancakes until bubbles stop forming and edges are cooked, about 2 minutes. Flip and cook until golden brown, about another 1 minute. Repeat for remaining pancakes (will make 6 – 8 pancakes, depending on size)
While pancakes are cooking, add cherries to a small microwave-safe bowl. Heat on defrost in the microwave until thawed and just a bit warm.
Coarsely mash cherries with back of fork, allow juices to remain in the bowl.
Add Greek yogurt and stevia to cherries, mix to combine.
To serve, arrange pancakes into two stacks. Top with ½ of cherry topping. Enjoy!
Serves 2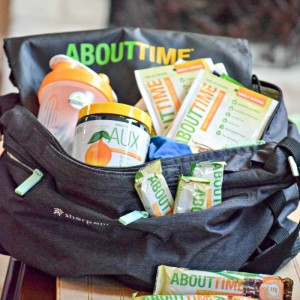 About Time has so many other great products that fit in with my lifestyle – just a few I'd like to point out are the Paleo-friendly Fruit, Nut and Protein Bars that are great for post-workout or satiating snack and the AUX Pre-Workout Drink (stevia-sweetened) designed to increase metabolic performance and promote rapid recovery. The company believes in complete ingredient transparency, there are no preservatives or yucky chemicals. You'll be finding both of these products in my gym bag from now on!
And, what would talking about food that keeps athletes fit and looking fierce be without a special workout?!  Try out my About Time Abs Workout – you may not thank me while you're doing it, but you'll thank me later!
Have you ever had protein pancakes, what did you think?!
What is your go-to ab or core exercise?
This post is sponsored by FitFluential on behalf of About Time.