Yesterday while I was knocking out some burpees, my mind started to wander and I realized that I never gave an "official" update on my experience doing the CrossFit Games Open 2014. But, first let me give you the quick backstory. I've been a fairly competitive runner for a long time and my first real experience with CrossFit was back in January 2011, when my good friend Valerie Hunt, a running coach and owner of BVM CrossFit, drug my scrawny runner's rear up to California to a CrossFit Endurance (CFE) camp being put on by Brain McKenzie.
Brian's CFE program follows the CrossFit model while adding precise training protocols for endurance. It is fair to say I was skeptical of the claims that weaving CrossFit into my fitness routine would make me a better runner. It is also fair to say that despite my high level of cardiovascular fitness, I was pretty darn out of shape. I could only do one pull-up and after running a marathon, the sorest part of my body would be my lower abs and back as I had the core strength of a flea.
I took what I learned from camp and with Valerie's encouragement and advice turned my wimpy self into a much all-around fitter person, if I dare say so myself!  The one measly pull-up turned into 25 unbroken "kipping" style pull-ups and I overcame (most) of my fear of Olympic style lifting – all this "old dog trying new tricks" translated into some great Master's running PRs. Despite all the improvements, I do need to get over my tendency to just do the parts of a WOD that I like – which tends to be the body weight and endurance stuff. My weaknesses became readily apparent when obligated to perform the CrossFit Games Open 2014 workouts exactly as prescribed – for it to count, there could be no scaling back the weights, substituting or skipping over a move!
14.1 WOD Complete as many rounds and reps as possible in 10 minutes of jump rope double-unders (30 reps) and 55-lb. power snatches (15 reps). Started off the whole Open with a skill I have never done (why jump rope when you can run had been my mindset)! I felt like an uncoordinated kid, but wasn't going to let it all start and end with first hop. I reminded myself that you have to believe you can do something to actually do it, so I kept my confidence up and at one point actually strung along about 7 rotations.
14.2 WOD Every 3 minutes for as long as possible complete: From 0:00-3:00 2 rounds of 10 overhead squats and 10 chest-to-bar pull-ups; from 3:00-6:00  2 rounds of 12 overhead squats and 12 chest-to-bar pull-ups; from 6:00-9:00 2 rounds of 14 overhead squats and 14 chest-to-bar pull-ups.  I was SO looking forward to doing the chest-to-bar pull ups; this is one of my stronger skills. The only thing standing in my way was the overhead squats with a 65 lb. bar.  Overhead squats are one of the lifting moves that I had always ignored; rationalizing this un-love with the excuse my tight runner's hips don't work like that. I practiced all weekend and was having trouble even finishing one with an un-weighted ladies' 35 lb bar. Well, by some miracle, I made it through the 10 reps (not pretty) and was able to knock out the chest-to-bar  pull-ups with ease. Unfortunately, I couldn't even get one more squat with quite a bit of time remaining on the clock, so no more pull-ups for me. Sniff.
14.3 WOD Complete as many reps as possible in 8 minutes of: 95-lb. deadlifts (10 reps) and 15 20" box jumps, 135-lb. deadlifts (15 reps) and 15 20" box jumps, 155-lb. deadlifts (20 reps) and 15 20" box jumps, 185-lb. deadlifts (25 reps) and 15 20" box jumps through 205-lb and 225-lb deadlifts same pattern. So this is one of the WODs I was most proud of because I always scale back my deadlifts "to save my legs for running." So, knowing that I had only lifted 135-lbs for a few reps here and there, I totally surprised myself to get all the way through the 20 reps of 155-lbs! I had about 35 seconds left to go for some 185-lbs, but decided that it wasn't worth the risk of injury considering I had just run a half marathon the day before!
14.4 WOD Complete as many rounds and repetitions as possible in 14 minutes of: 60-calorie row, 50 toes-to-bars, 40 wall-ball shots, 20 lb. to 10-foot target, 30 cleans with 135 lb. 20 muscle-ups. The rowing was totally tolerable, especially when reflecting on the time I thought it would be a good idea to row 13.1 miles at one sitting.  I had raced a 5k the day before and my glutes were screaming during the wall-ball shots – I never made it to the muscle ups, but definitely some day!
14.5 WOD 21-18-15-12-9-6-3 reps for time of 65-lb. thrusters and burpees. No surprise to me that the easiest workout for my athletic abilities and also ranked me the highest on the leaderboard – despite having run the Dallas Half Marathon and winning my age division the morning before!
What I learned:
1)      Always start a WOD with an "I can do this" attitude. When I start to self-doubt, I'm not focused on the task at hand, only failure.  Case in point, the double-unders and the overhead squats — decided I "could" do them, and I did!
2)       Road racing and the Open mixed better than I thought. I really wanted to do the CrossFit Open, but also had two half-marathons and a 5k scheduled on three of the five Sundays during the Open – I went for it ALL anyway!  With the WODs being announced on late Thursday night, my hand was forced to compete on Mondays, the last day scores would be accepted. This meant no significant practice prior and often competing with delayed onset muscle fatigue.However, recovering proper after my races with a lot of quality protein (BEEF) helped significantly as did a lot of warming up before the start timer went off.
3)      Pay more attention to my weaknesses and actually put in the work to improve them.  In CrossFit you have to be ready for anything at any time – constantly varied, functional fitness and all that! Until they come up with a "Jennifer WOD," doing only what I "like" isn't going to make me very adaptable or competitive.
4)      I didn't get bulk up like a beast and lose my streamlined runner's shape doing Crossfit. Many women have the misconception that this type of exercise is going to make them huge and man-like. Your body is genetically programmed to have a certain shape, more or less. So, unless you are from Amazonian stock, you are just going to look like a fitter, leaner, slightly more muscle-y version of normal yourself.
5)      Winning isn't everything. In running,  I compete to win overall, master's or AG depending on the race. If I don't, I can be very hard on myself  However, the CrossFit Open reminded me that showing up and getting it done is something to be proud of. I put in a lot of work, even though I didn't get any sort of golden ticket. So, how DID I do 0 that IS the burning question, right? Well, according to the online results,  worldwide I ranked 1078 and in the South East region I ranked 70th, I'm assuming this is my age group or the entire Master's division; I'm having trouble interpreting the leaderboard.  I think there were around 125,000+ competitors in the whole event, so I'm actually quite happy and surprised. I felt like I would be at the bottom when I compare myself to the strength and talents of many others I know.
And, now onto the refueling smoothie of the day! It sounds sort of strange, but tomatoes and strawberries make a really interesting, yummy combo for a fruit smoothie! I mean, a tomato is a fruit — right?! Check out my recipe for a Strawberry Tomato Smoothie.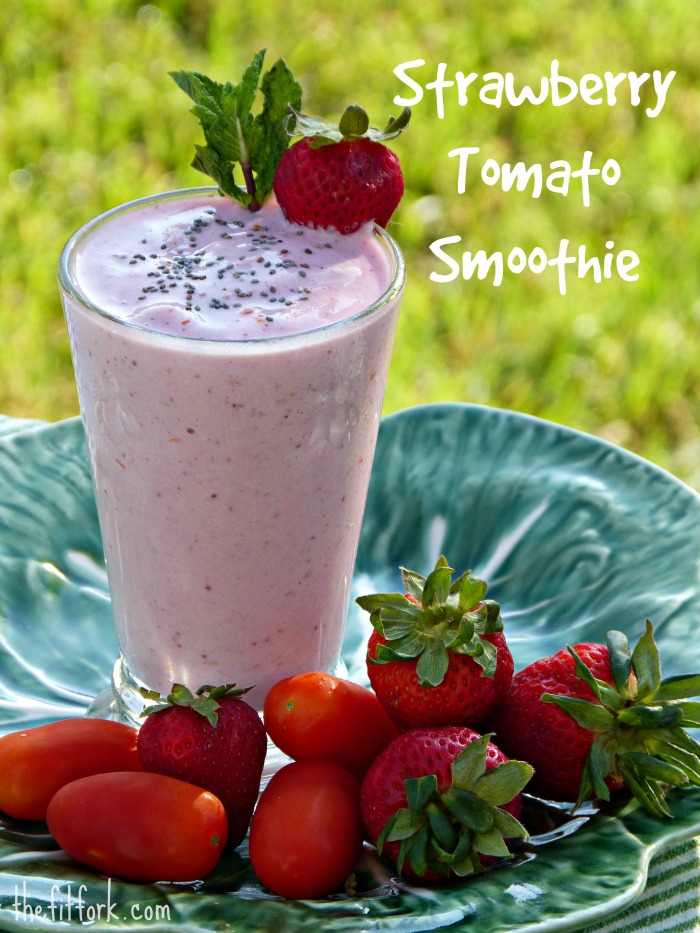 Blend 10 ounces almond milk with 6 frozen grape tomatoes, 6 frozen strawberries and Stevia to taste. Add ice to achieve desired consistency, if needed. Top with chia seeds.