The following post is sponsored by Fitfluential LLC on behalf of Daisy Cottage Cheese.
Today, it's cottage cheese, please! But, as I kid, I expressed my displeasure with this curd-style dairy product with the same gusto that was reserved for having blood drawn, getting grounded, having to babysit my brother instead of hang out with friends  — no, please, please, please don't do this to me!  Crying, screaming, gnashing of teeth and so on. Boy, how times change! I barely wince at a needle prick, never get in trouble with my parents anymore and would welcome the opportunity to spend more time with my brother.  And . . . as you probably have guessed, I now love cottage cheese!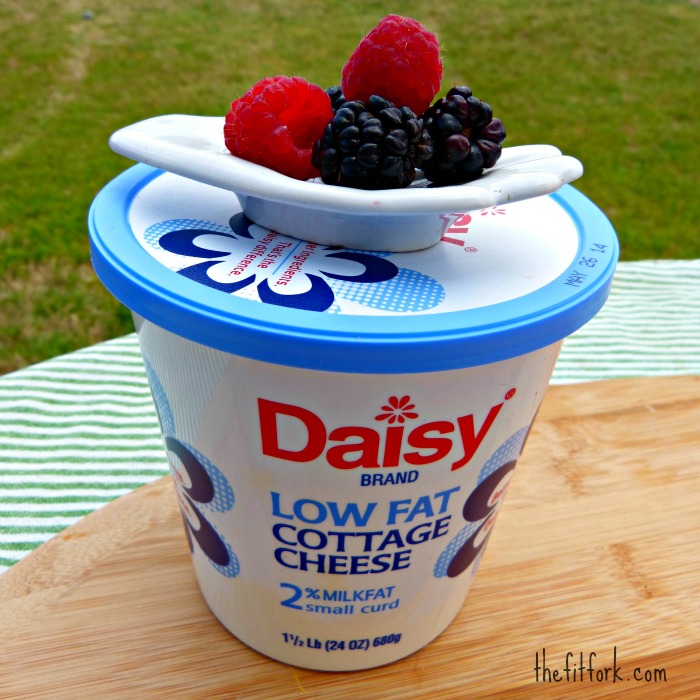 When I headed down to the store to get my carton of Daisy Cottage Cheese, I noticed that the brand has rolled out new packaging – it's so catchy with the white carton, blue lid and signature flower. It's easy to figure out if you're buying delicious full-fat Daisy (dark blue lid) or low-fat Daisy (light blue lid) — these little details matter, especially if I'm in a rush! But a great carton isn't the only #DaisyDifference when it comes to stacking up this product against similar seeming cottage cheese brands on the shelves.  Daisy Cottage Cheese just plain uses better ingredients (and fewer) than the competition. Made from only four ingredients, this stuff is straightforward and simple – just the way it should be. I feel confident serving Daisy to my family knowing it isn't gunked up with unnecessary additives, preservatives and thickeners.
What I've found as a mom and athlete is that cottage cheese is a great way to pack a wallop of protein into any meal of the day– even snacks and treats! Did you know that a ½ cup serving of 2% Daisy Cottage Cheese has just 90 calories and 14 grams of protein – getting me well on my way to achieving my daily protein requirement.  As a runner and fitness enthusiast who often works out two times a day, I require extra protein to help my body recover and rebuild muscle.  It's so easy to add cottage cheese to a smoothie, a salad, or on top of a baked potato – I even blend up cottage cheese to transform it into a creamy sauce and silky, smooth baking ingredient.  Plus, since our family is on a budget, I really appreciate the value that cottage cheese offers as a protein source.
In honor of spring and all its fresh flavors, I whipped up this yummy batch of Lemon Chai Tea Cakes with Berries. It's a healthy dessert that is balanced with protein – actually, I think it would also be great for breakfast!   As a bonus, this recipe is gluten-free and doesn't have a lot of added sweetness – only a bit of honey and lemon curd.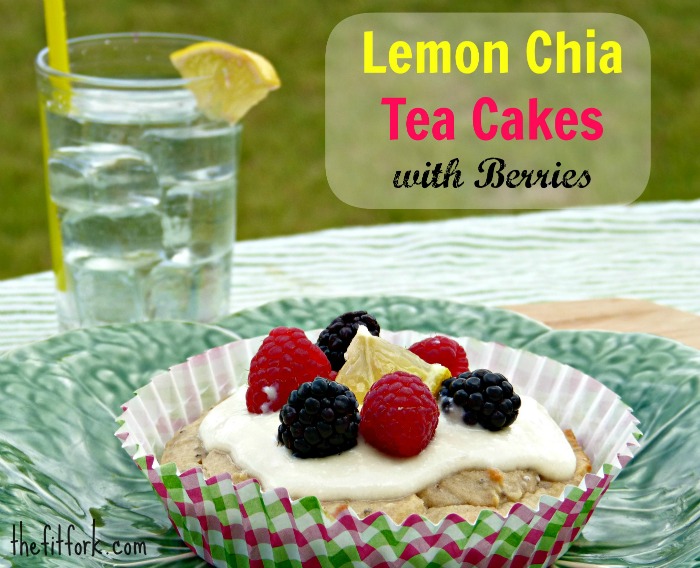 Lemon Chia Tea Cakes with Berries Recipe
2 cups gluten-free oat flour
2 teaspoons baking powder
2 tablespoons chia seeds
1/2 teaspoon salt
1 ½ cup 2% Daisy Brand cottage cheese
¼ cup fresh lemon juice
¼ cup lemon curd
¼ cup honey
1 teaspoon vanilla
2 large eggs
2 tablespoons coconut oil, melted
Sauce and Garnish
½ cup 2% Daisy Brand cottage cheese
¼ cup lemon curd
Blackberries and raspberries
In large bowl, mix together oat flour, baking powder, chia seeds and salt until combined.
In blender, mix together cottage cheese, lemon juice, lemon curd, honey, vanilla, eggs and oil until smooth.
Mix wet ingredients into dry ingredients, stirring until just combined but not over mixing.
Spoon batter into 4 free-standing paper baking cups (4" diameter) or 8 standard size muffin tins.
Bake for approximately 20 – 25 minutes, or until toothpick inserted into center pulls clean.
While muffins are baking, make sauce by adding ½ cup cottage cheese and ¼ lemon curd in blender; blend until smooth.
To serve, spoon sauce over cooled tea cakes and top with berries. Serves 4.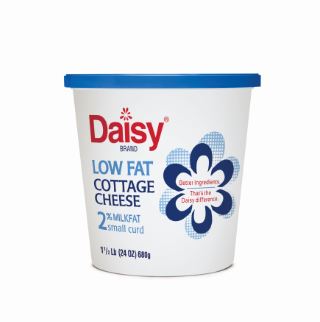 Don't Miss the Twitter Chat with Daisy Cottage Cheese
Find out how to "Power Your Way Through the Day" with cottage cheese, a versatile protein source for breakfast, lunch, dinner, snacks – as well as for workout fuel and recovery. I can't wait to learn more about the benefits of cottage cheese from the experts and find out some of the Fitfluential community's favorite recipes.
Twitter Chat:
Hosted by: FitFluential
Date: April 10, 2014
Theme: Power Your Way Through the Day
Time: 9:00 pm EST
#DaisyDifference