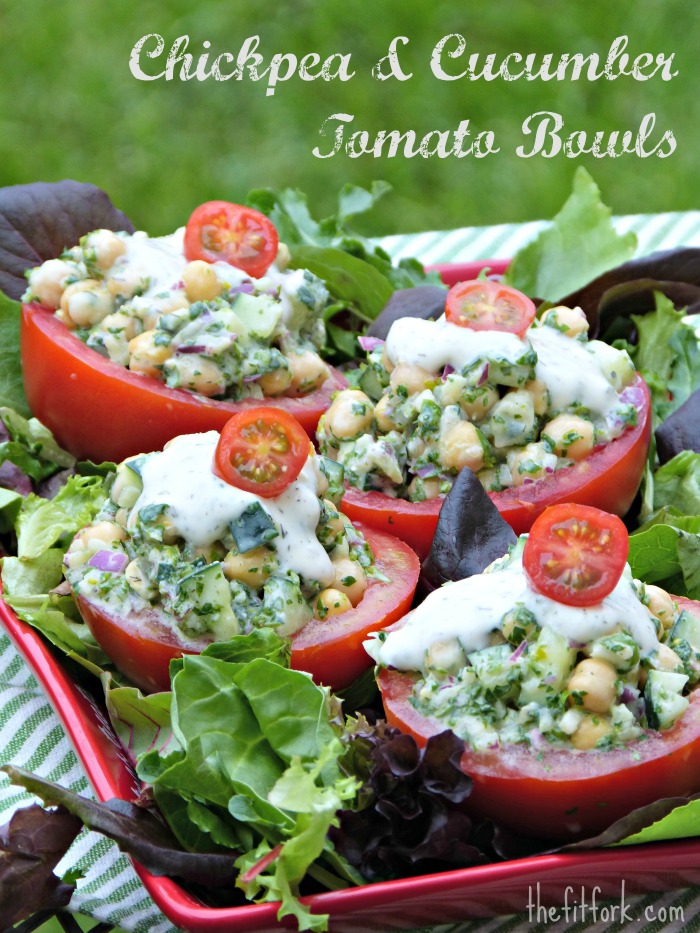 "The chickpea is neither a chick nor a pea. Discuss."  Remember when Mike Myers chatted about this the "Coffee Talk" comedy sketch on Saturday Night Live?
The chickpea, also known as a garbanzo bean, is actually a legume that has been around for more than 7,500 years. A popular choice for man Mediterranean and Indian dishes, the little chickpea is packed with big nutrition – an excellent source of protein, dietary fiber, and vitamin B6 for vegetarians. Vitamin b6 helps to stabilize blood sugar, metabolize foods and make antibodies to ward off disease.
I came up with this lovely dish for Litehouse Foods and just knew I had to share it here  – it's perfect for a lunch or light dinner. The cool and crisp salad is dressed with flavors favored along parts of Greece and Italy and packed into a tomato serving as an edible bowl. Did you know the healthy, long-living people of the Mediterranean region eat, on average, nine servings of fruits and vegetables a day? This chickpea salad will get you well on your way to meeting this daily goal.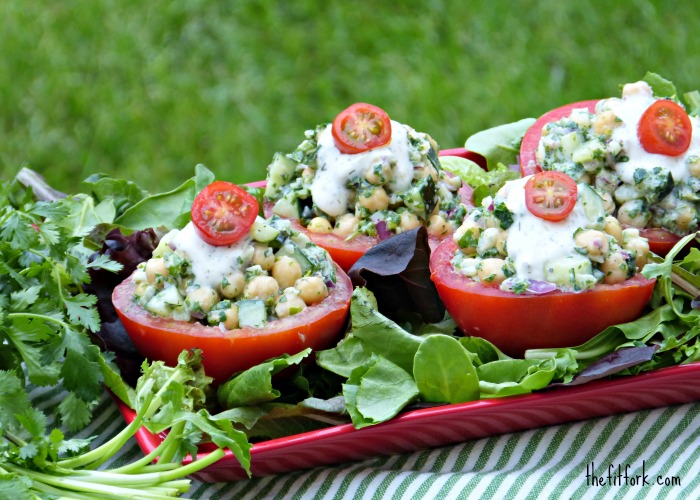 Chickpea, Cucumber & Kale Tomato Cups with Feta Dill Dressing
 1 ½ cups packed kale or baby kale leaves
1/3 cup fresh cilantro leaves
½ red onion cut in chunks
2 Tbsp fresh lime juice
1 Tbsp minced garlic
1 medium cucumber chopped coarsely
1 (15-oz) can rinsed and drained chickpeas
2 large tomatoes (like Beefsteak variety)
½ cup Litehouse Food's OPA Feta Dill Greek Yogurt Dressing (plus additional for garnish)
2 grape tomatoes cut in half
2 ounces baby spring lettuce mix
Directions
In work bowl of food processor, add kale, cilantro, onion chunks, lime juice and garlic. Pulse for approximately 1 minute or until ingredients are finely chopped like pesto. Set aside.
In medium bowl, add chopped cucumber, rinsed chick peas and mixture from food processor. Add ½ cup dressing  and mix everything together until thoroughly coated.
Cut large tomatoes in half crosswise and scoop out seeds and pulp with spoon (reserve for another purpose, if desired). Fill tomato cups with chickpea mixture and top with a dollop of dressing and grape tomato half. Serve on top of baby spring lettuce mix. Serves 4.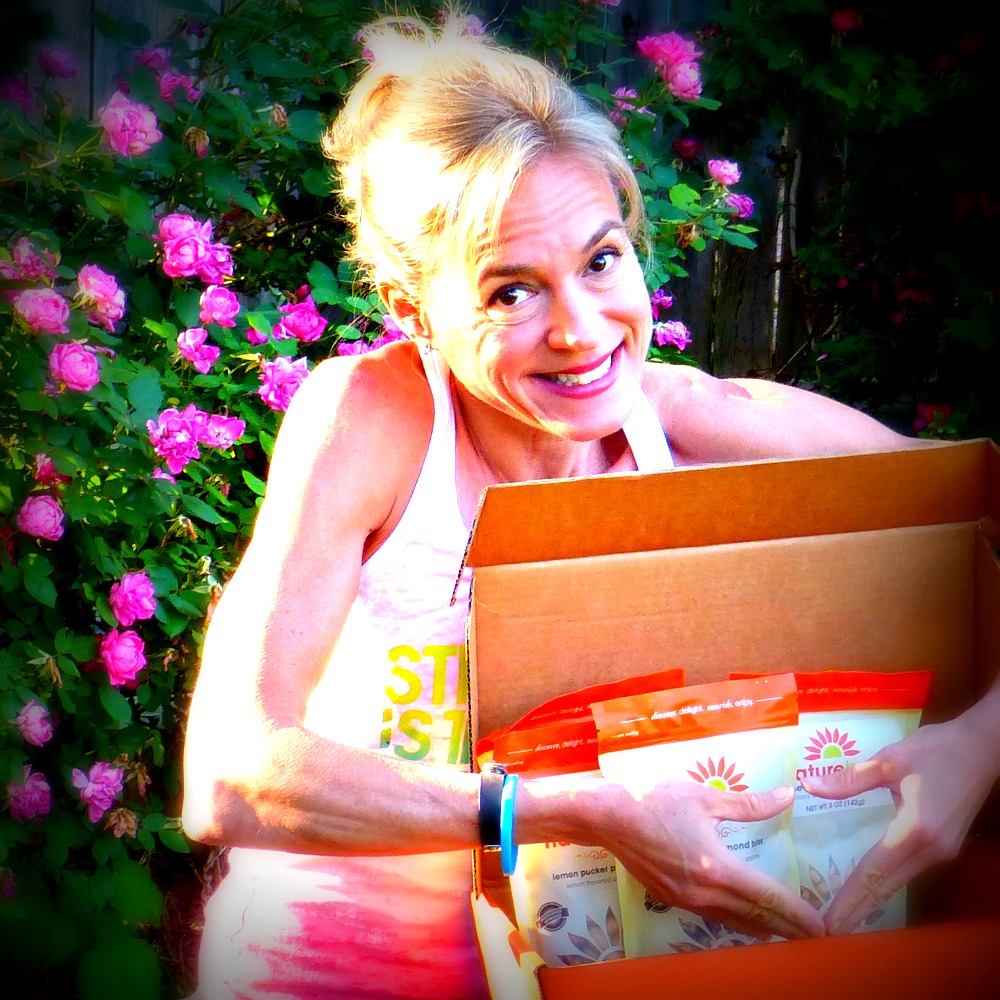 I have another yummy mention – POPSUGAR Must Have Snacks by Nature Box. I received a box full of these nutritious nom-noms in the mail and have been enjoying mixing up my normal afternoon snacking. Being stuck inside working on the computer (and nursing my sprained ribs) is much more tolerable with five bags of healthy snacks like Blueberry Almond Bliss and Lemon Pucker Pistachios.
Check it out for yourself. For a limited time, the POPSUGAR Must Have Snacks by NatureBox will be 50% off!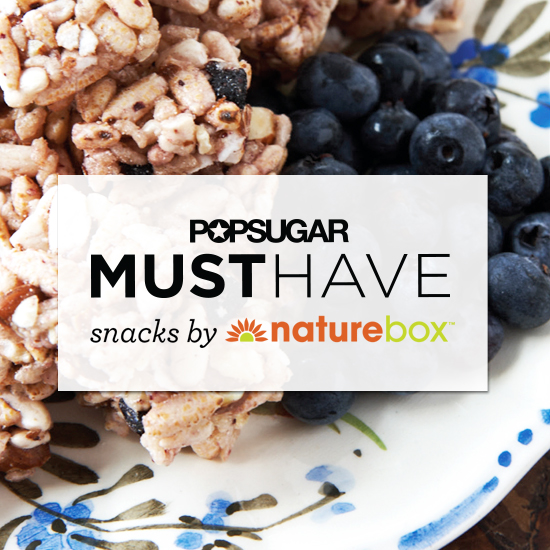 Disclosure: POPSUGAR and NatureBox provided me with a complimentary POPSUGAR Must Have Snacks by NatureBox box. The opinions I have shared about the box are my own, and POPSUGAR and NatureBox did not tell me what to say or how to say it.