This post and giveaway are sponsored by Hamilton Beach. However, all content, comments, recipes and enthusiasm are my own.
My engine is revving and I'm whirling with excitement to be sharing some of my favorite blender recipes today (including a special nut butter recipe) – you'll notice there are no smoothies (it's just too cold for me)! I'm also hosting a giveaway for a new Hamilton Beach ® Professional 1800 Watt Peak Power Blender (ARV $249), whoohoo! This versatile workhorse for your kitchen easily emulsifies oils into dressings, frapees fruit into frozen drinks, purees potatoes into porridge, chops veggies for your moire poux, and makes meat  . . .uh, well, minced meat It also makes child's play of pulverizing the heartiest seeds and nuts into butter.
Check out my recipe for Smoky Sriracha Six Seed & Nut Butter featured today on Hamilton Beach's Every Day Good Thinking blog. And then, come back to enter the blender giveaway and drool and pin my other favorite blender recipes.
Smoky Sriracha Six Seed & Nut Butter : Head on over to Hamilton Beach to check out my fabulous nut butter, a rare spicy-ish find among spreads that are all too often paired with jellies, jams, honey and such. This seed & nut butter features almonds, cashews, peanuts, hemp seeds, sunflower seeds and chia seeds kicked up with smoky paprika and sriracha sauce!  It's the perfect spread in a savory wrap for lunch, as a dip for veggies or I've even thinned it out with a bit of soy sauce and lime juice to jazz up my stir-fys and use as a dip for spring rolls.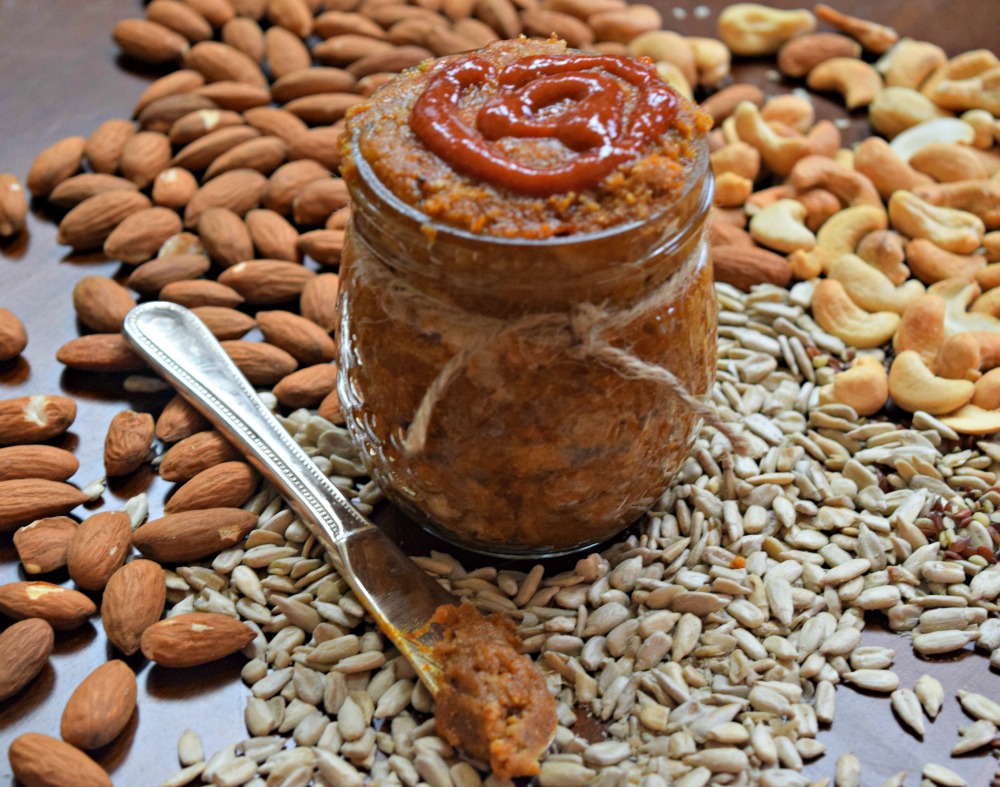 Homemade Garlic Pizza Sauce – Put down that call to the delivery guy, this sauce only takes two minutes to make! Kick up fire-roasted tomatoes with spices and all the garlic you can take and blend! Great  for pizzas and also as a pasta or zoodle sauce!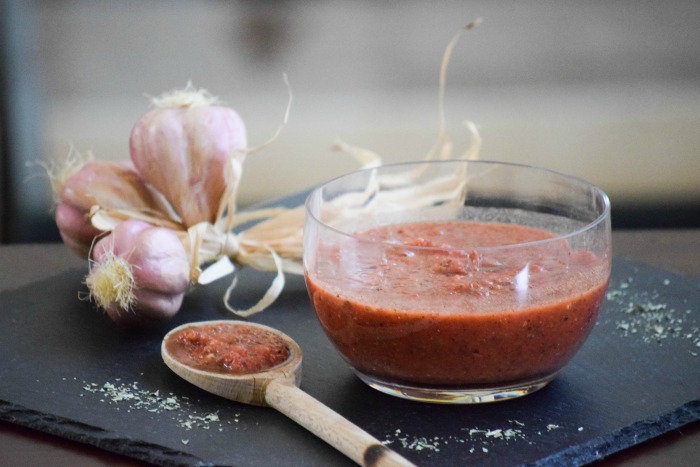 Smoky Chipotle Squash & Chickpea Soup – Warm up from in inside out with a steaming bowl of this pleasingly spicy soup. Chickpeas are blended with squash and almond milk to create a super creamy texture.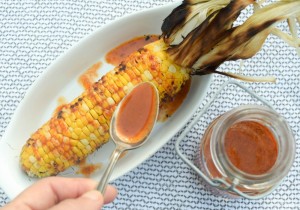 Copycat Freebird's Ancho Salad Dressing – When I go to this popular burrito joint, you can bet your beans that I'm going to order the ancho dressing for my salad – I love it so much, I recreated it at home. This southwestern-inspired vinaigrette, which required soaked dried peppers and blending, is delicious on everything from salads to corn-on-the-cob and other veggies — or use as a marinade for meats and seafood.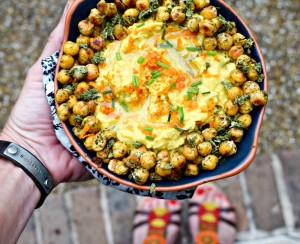 "Go for Gold" Turmeric Hummus – This tasty dip is beautiful in so many ways – the color, the nutrition from chickpeas, the anti-inflammatory properties of turmeric, and the fact that you can plop all the ingredients in a blend and hit "on."
Now, about that blender! I loved it, and it put my other blenders to shame. In mere seconds, it pulverized a heaping pile of nuts while I stood there with my jaw dropped!  This bad-boy, professional-grade blender has 2.4 horsepower motor and blades that reach speeds in excess of 140 miles per hour to take care of the toughest tasks – yet also coddle delicate ingredients with a variable speed dial. The shatterproof 64-ounce jar is perfect for kitchen klutzes like me and, thankfully, can conveniently be cleaned in the dishwasher.
Seriously, I can't believe how easy it was to make a nut butter in the blender!
To enter the giveaway, please follow the instructions in the Rafflecopter app (ends midnight CT 2/5/2017).
a Rafflecopter giveaway