Sometimes a girl needs a treat, and there's nothing wrong with a bit of sweet. But, before you reach for a pint of ice cream, cupcake or even diet soda, you should think about enjoying a wholesome treat made with the oldest sweetener around – honey!  Even though honey contains simple carbohydrates and its fair share of calories, honey is in no way comparable to refined white table sugar.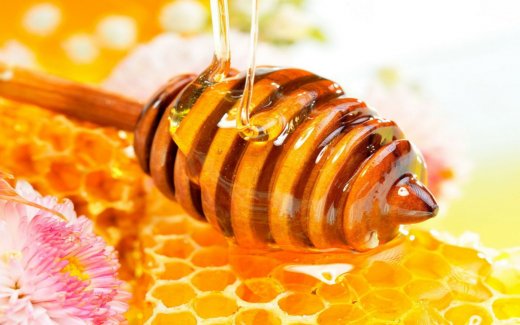 The combination of fructose and glucose in honey help to regulate blood sugar, meaning you won't be jacked around with the jolt and subsequent crash found with regular sugar. An abundance of cancer-preventing antioxidents are inherent to honey as are gut-friendly bacteria (probiotics) that can help tame digestive issues.  Also, some believe eating locally-sourced honey can also help lessen certain seasonal allergies. The jury still out on this, but because honey tastes so good, I'm willing to take a daily spoonful for . . .er, medicinal purposes!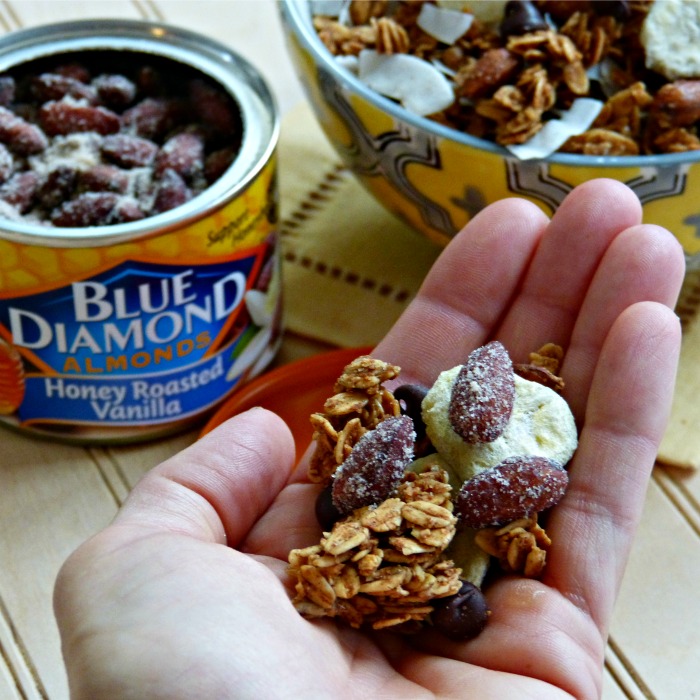 Lately, a honey-sweetened (and pollinated) treat I've been enjoying are a couple new flavors of Blue Diamond Almonds – Honey Roasted Vanilla and Honey Roasted Chipotle. What's not to love? Sweet, salty and crunchy with just the right level of supporting flavor – it's impossible to say whether I love the Honey Roasted Vanilla or the Honey Roasted Chipotle better. Both are creating major buzz with my taste buds! Of course, almonds are perfect for eating right out of the can (I always keep them in my purse) but they also make recipes rock – like my honey and almond inspired Not Quite So Chunky Monkey Granola!
"Not Quite So" Chunky Monkey Granola with Blue Diamond Almonds Recipe
3 tablespoons coconut oil
1/3 cup organic honey
1 medium banana, mashed
1/4 cup water
2 teaspoons vanilla extract
2/3 cup (2 scoops) vanilla or plain protein powder
1 tablespoons ground cinnamon
3 1/2 cups old-fashioned rolled oats (Gluten-Free, if needed)
½ cup unsweetened coconut flakes
½ cup freeze-dried banana slices
½ cup chocolate chips
6 oz. can Blue Diamond Honey Vanilla Almonds
Preheat oven to 300F. Line a large baking sheet with parchment paper or Silpat.
Place the coconut oil, honey, mashed banana, water and protein powder and cinnamon in a medium saucepan. Turn heat to medium-low and whisk until mixture is smooth, thick and creamy and just beginning to bubble. Remove from heat and whisk in vanilla.
Pour oats and coconut flakes into pot, stirring to combine and coat. Pour mixture out evenly on prepared baking sheet.
Bake in preheated oven for approximately 45 minutes, stirring once or twice. If granola still seems moist, keep baking in 5 minute increments until dry. Remove from oven and let cool completely on sheet. Crumble up in bowl and stir in dehydrated bananas, chocolate chips and almonds. .
Store cooled granola in an airtight container for up to 2 weeks, or freeze for up to 2 months.
*Sugared and honey-coated nuts tend to burn easily, so I add them after baking. However, if you substitute raw almonds, they may be added with the oats before cooking.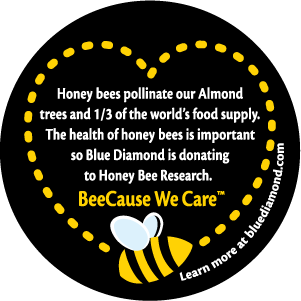 You know what else I love about theses Honey Roasted Blue Diamond Almonds? The company donates money to help support honeybee research – to date, Blue Diamond has backed more than 70 studies in support of bee health. The almond industry, as a whole, is 100-percent reliant on honeybees to pollinate almond trees every season – and 1/3 of the world's food crops are also pollinated by bees!
As an athlete, I also appreciate honey as a way to supplement my nutrition before and during a race or intense workout. As you probably know, carbohydrates are the primary (but not only) source of fuel the body uses during exercise. Honey offers 17 grams of carbohydrates per tablespoon, making it a dense and efficient source of energy while on the run – literally. I will often stash restaurant "take-out" honey packs or convenient honey sticks in my pockets during a long run. And, as an athlete, I also appreciate almonds as a way to recover from a workout – it's best to take in a protein-rich snack within 30 minutes post-exercise and almonds are a convenient, perfectly portable for travel, non-messy snack to stick in a gym bag.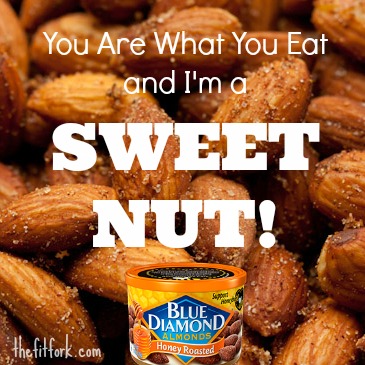 This post is sponsored by Blue Diamond Almonds, but all recipes and opinions are my own.