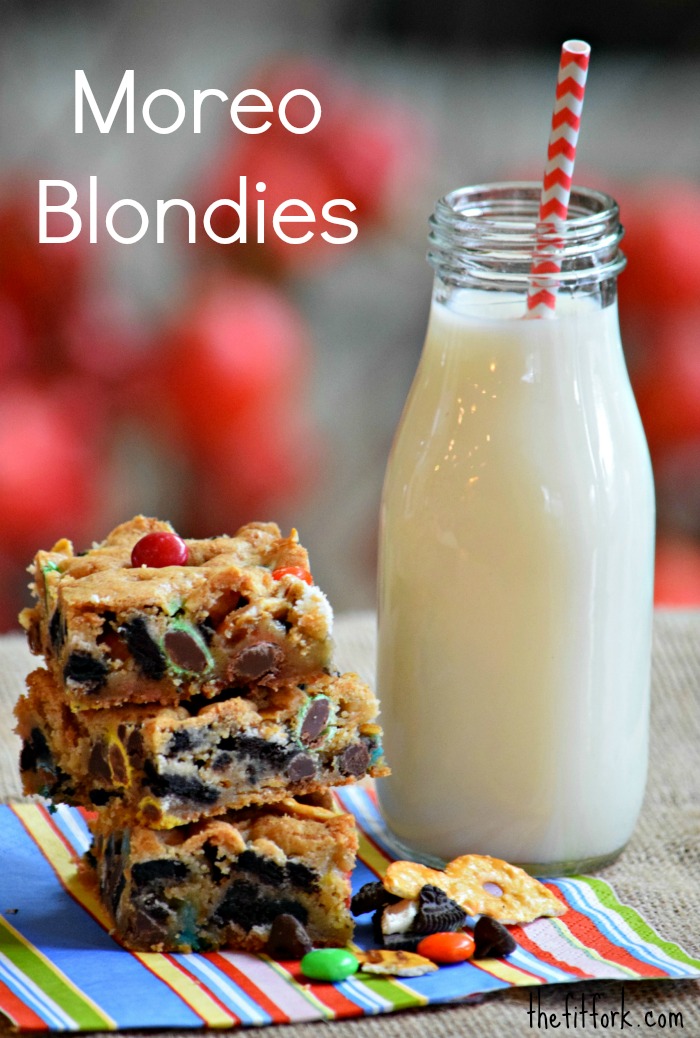 If MORE means "a greater or additional amount," then my Moreo Blondie Bars have more MORE! This delicious treat is overflowing with a greater amount of good things than I typically eat at once – like Oreo cookies, M&Ms, chocolate chips, lots of butter and sugar.  Even though I preach clean eating most of the time, the holiday season is not the time to say "NO" to festive, frivolous and nourishment of dubious (yet delicious) quality – Halleluiah!  You HAVE to read on after the recipe to see my brother's awesome idea of MORE – it's a Cherblumpkin!
So, if you're making Christmas cookies at home, these Moreo Blondie Bars are very easy to make – just mix up the ingredients and plop in the pan. I highly recommend lining the baking dish in foil before adding the batter. When baked and cooled, simply lift out the by the foil edges and then neatly slice into bars. If you don't want to go whole hog, check out my recipe for The Best Ever Chocolate Chip Cookie – it's a classic.
Moreo Blondie Bar Recipe
1 cup butter, melted
1 cup granulated sugar
1 cup light brown sugar
2 large eggs
1 teaspoon baking soda
½ teaspoon salt
2 cups all-purpose flour
15 double stuffed chocolate sandwich cookies, coarsely broken
1 cup broken pretzel pieces
½ cup M & M candies
½ cup dark chocolate chips
Preheat oven to 350 F degrees.
Melt butter in microwave safe bowl. Add sugars and stir until combined and then mix in eggs.
Stir in baking soda, salt and flour until combined, but don't over mix.
Mix in crushed cookies, pretzels, candies and chocolate chips until evenly incorporated.
Line 9" x 13" baking pan with foil; spray foil with cooking spray.
Add dough to pan, patting down with fingers or spatula.
Bake on center rack for 25 minutes or until edges and top turning light golden brown and center looks set.
Let cool completely in pan.  Remove contents from pan by lifting foil. Peel sides of foil back and cut into 12 bars.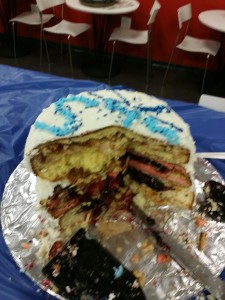 Here it is . . . .the Cherblumpkin! It's a cherry pie stacked on a blueberry pie stacked on a pumpkin pie – frosted to look like a layer cake. The contest was for Cherpumpple (cherry-pumkin-apple),but my little brother shook up the system with his heart stopper of a pie-cake hybrid, so proud of him.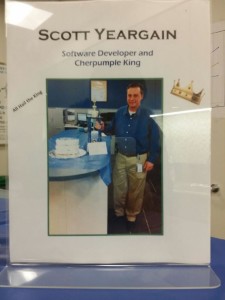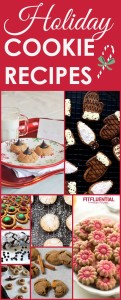 If you need more holiday goodie ideas, the Fitfluential ambassadors having a Virtual Cookie & Treat Link Up. Lots of goodness here, recipes to suit both sensible and sinful cookie bakers!
What's your favorite holiday baked item — please share?