Disclaimer: This post is sponsored by Now Foods. I received product and compensation for my time to create this recipe and share my honest opinion. 
What if I told you to eat the whole cake? Would you do it, could you do it? I think so! My Personal-sized Paleo Chocolate Angel Food Cakes are a light, low-cal cake treat that will satisfy your cravings and jive with your food tribe – be that Paleo, gluten-free, sugar-free, or diary-free.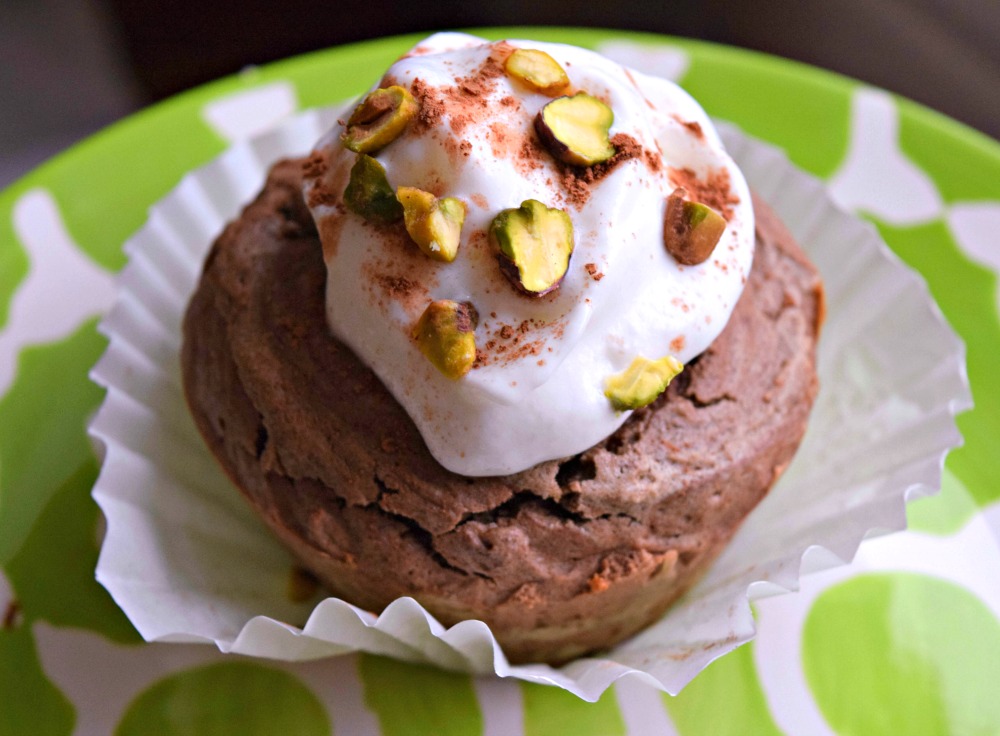 Each substantial-sized "mini" cake (made in jumbo muffin tins) has just 162 calories, 45g total carbs with 13 of those being dietary fiber (but no added sugar), 8g protein and less than  ½ g fat. Honestly, they are so big for being little, I'm often happy with just half! Read on to get the recipe and find out about the green banana flour I used in the batter.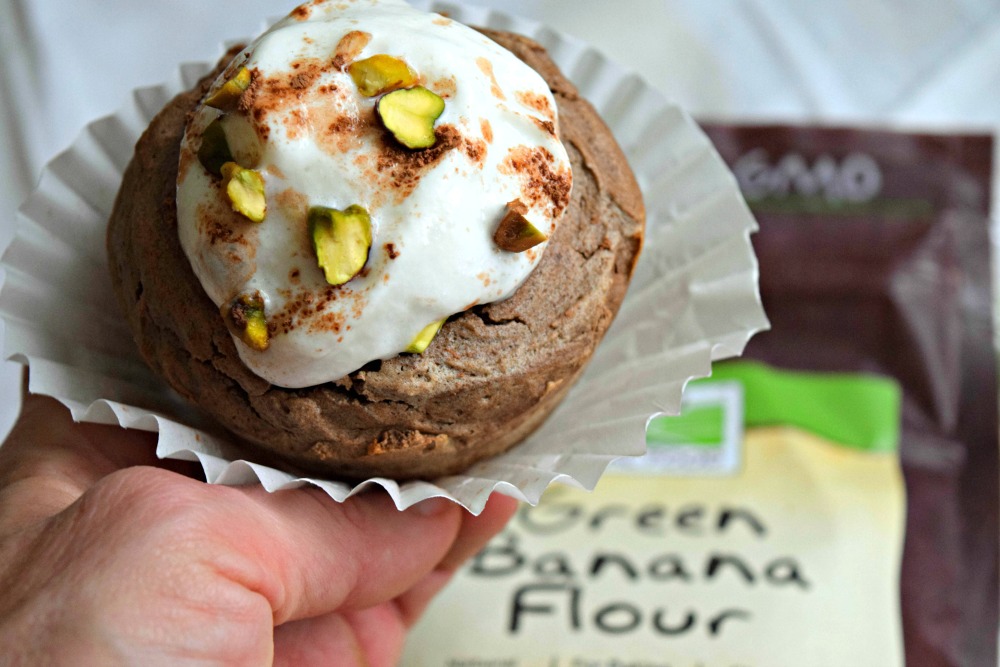 Yes, green banana flour! Have you used it before, or even heard of it?  This gluten-free flour alternative is a great source of resistance starch (a prebiotic, a good thing) that helps introduce good gut bacteria and eject the bad. It doesn't taste like bananas, instead I'ts rather a little earthy, wheaty and not at all sweet.  From my experience so far, you can use like coconut flour (taking into consideration these are denser flours and about 3/4 cup equals 1 cup of lighter flours). Yes, banana flour has carbs, but don't freak out. These carbs are high in fiber which means they move slower through the digestive system, making you feel fuller longer all while doing a bunch of good stuff for your body. Google it "resistant starch health benefits".    
I used Green Banana Flour from Now Foods for this recipe, and also their Sugarless Sugar and unsweetened Organic Cocoa Powder. These are all must-have products that are in my pantry at all times! The Sugarless Sugar is a low-cal sugar alternative (using a blend of sweeteners that includes erythritol and stevia) that measures cup-for-cup in baking as a refined white granulated sugar.
This Paleo dessert is a really easy recipe without a laundry list of ingredients or preparation steps, don't let the fact that you have to whip egg whites scare you off. Most traditional angel food cake recipes say to use fresh egg whites, that pasteurized egg whites from a carton don't whip up right – but that's not my experience. I let the egg whites come to room temperature in the bowl and add a bit of cream of tartar before I whip them. Every time, I've gotten the nice fluffy peaks I've wanted!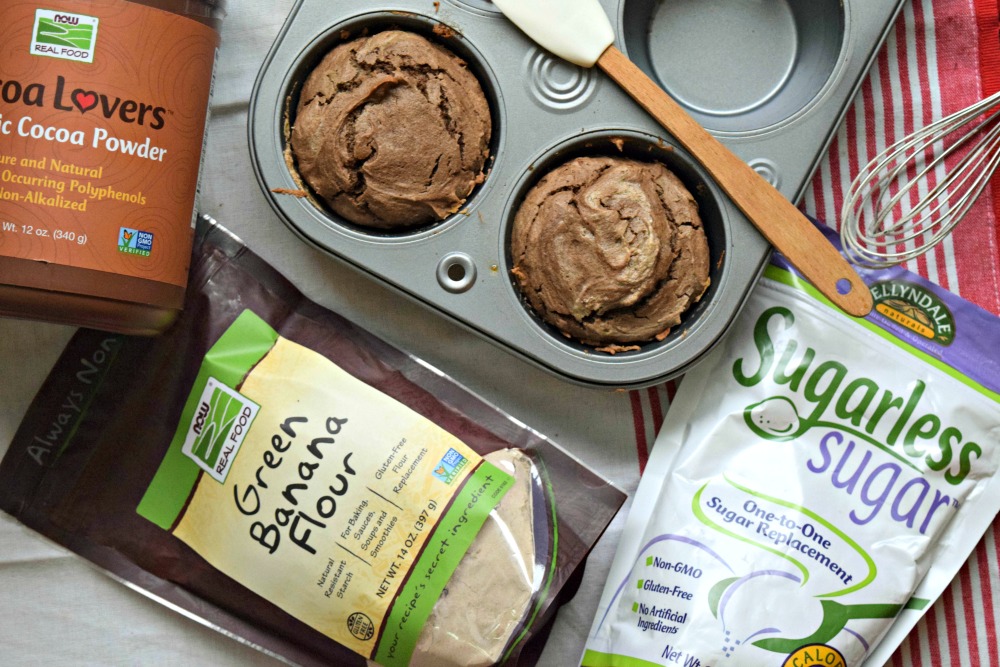 There are many ways to serve this gluten-free cake, I like to top it with a dollop of whipped coconut milk cream, dusting of cocoa powder and sprinkling chopped pistachios. Another yummy way is to garnish with my sugar-free chocolate ganache and an assortment of berries.
This recipe uses a 6-count jumbo-sized muffin pan. Use muffin liners if you like, I prefer to lightly coat my tins with coconut oil and they pop out just fine. If feeling productive, get meal-prepping and make an extra batch to stick in the freezer for a well-deserved work night treat – or even for a grab-and-go breakfast (seriously).
Linked up with Confessions of a Mother Runner
Have you ever heard of Green Banana Flour? What alternative flours do you use? What is your favorite flavor or type of cake? Run any races this weekend? I ran a Spartan Super and came in 3rd Masters! Please share in the comments — XOXO, Jennifer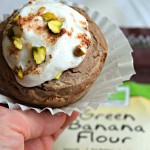 Made with green banana flour (!), this paleo chocolate angel food cake is a healthy dessert option that is also free of dairy, refined sugars, and gluten.
Servings

Prep Time

6

servings

15

minutes
Servings

Prep Time

6

servings

15

minutes
Made with green banana flour (!), this paleo chocolate angel food cake is a healthy dessert option that is also free of dairy, refined sugars, and gluten.

Servings

Prep Time

6

servings

15

minutes

Servings

Prep Time

6

servings

15

minutes
Pour egg whites into bowl of stand mixer and let sit for 10 to 15 minutes to take the chill off.

Preheat oven to 325 F degrees.

Prepare 6-count jumbo-sized muffin pan with liners or lightly coat with coconut oil/spray.

Sprinkle cream of tartar over egg whites. Add whisk attachment to mixer and whip egg whites until soft peaks form, approximately 2 to 3 minutes. Add 1/3 cup of sugar substitute and vanilla extract into egg whites and whip again for about 2 to 3 minutes, or until hard peaks have just formed. However, do not overmix, this will make cakes tough.

In a separate bowl, use a hand whisk to mix together remaining sugar substitute, banana flour and cocoa powder until no clumps remain. Remove bowl from mixer and pour flour mixture over egg white mixture in small batches (about four batches), very gently folding in with a spatula. Do not mix vigorously. Use spatula or spoon to full muffin tins full to nearly the top. Bake in center rack at 325F degrees for approximately 15 minutes, or until toothpick pulls clean from center. Let cool for 1 to 2 minutes in pan and then remove muffins to finish cooling on wire rack.

Top as desired before serving or eat plain!
Each mini cake has 162 calories, 45g total carbs with 13g of those being dietary fiber (but no added sugar), 8g protein and less than  ½ g fat