This post was sponsored by Ozarka Water, however all opinions, recipes, and enthusiasm are my own.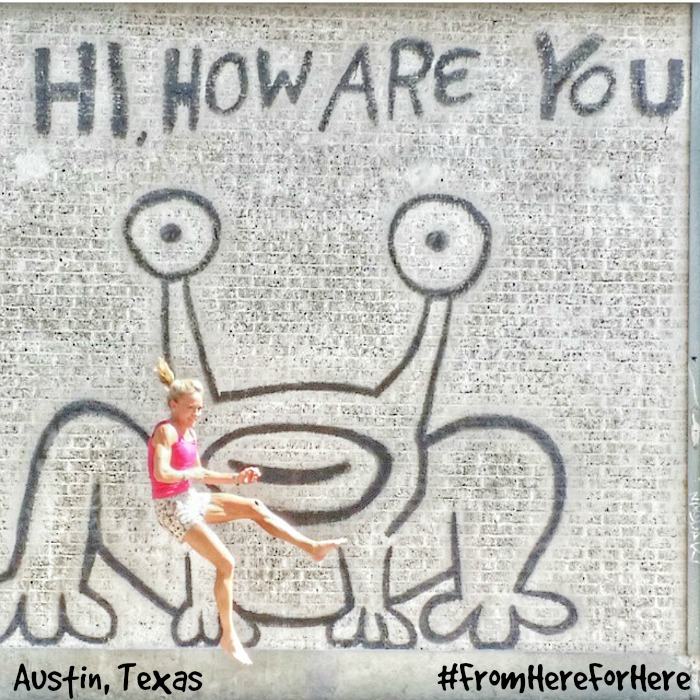 I love living in Austin, Texas and, with the exception of a few boomerang moves, I have called this little place (well, now a BIG place) home my entire life – not many folks can say the same! Sure, the live music scene and hipster vibe has made this town trendy and it's also the place to be for high tech, politics, and a good food truck fix.   However, the opportunities for being active are what I appreciate most about being right here in the ATX. The weather is wonderfully warm and the sun seems to never stop shining on the abundance of parks, lakes and local events where I stay active. And, there are so many local businesses that make products #FromHereForHere (like Ozarka Water) that keep me hydrated and fueled up for my healthy fitness journey.
Sometimes I feel like the luckiest girl in the world.  My neighborhood has over 20 miles of hike and bike trails to run and explore . . . 
My house is sublimely sandwiched between two bodies of water. Three miles one way is Lake Travis, the largest reservoir of the Colorado River and home to swimming, boating, scuba diving, and even legal nude bathing in the Hippie Hollow park area (we all want to #KeepAustinWeird). Another three miles down the road the other way is the return of the Colorado River at Mansfield Damn before it turns into downtown's Lake Austin (more recently renamed Ladybird Lake).
I like to paddle board toward downtown for miles or until my arms tire out . . .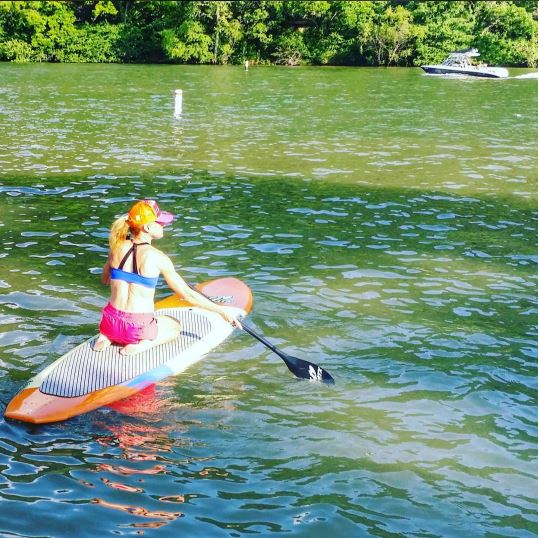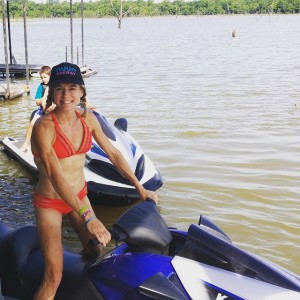 Some days I get my motor started by taking the jet ski out . . . 
Or, sometimes I just relax and sit in a chair while my son enjoys after-dinner fishing while our dog standing on guard . . .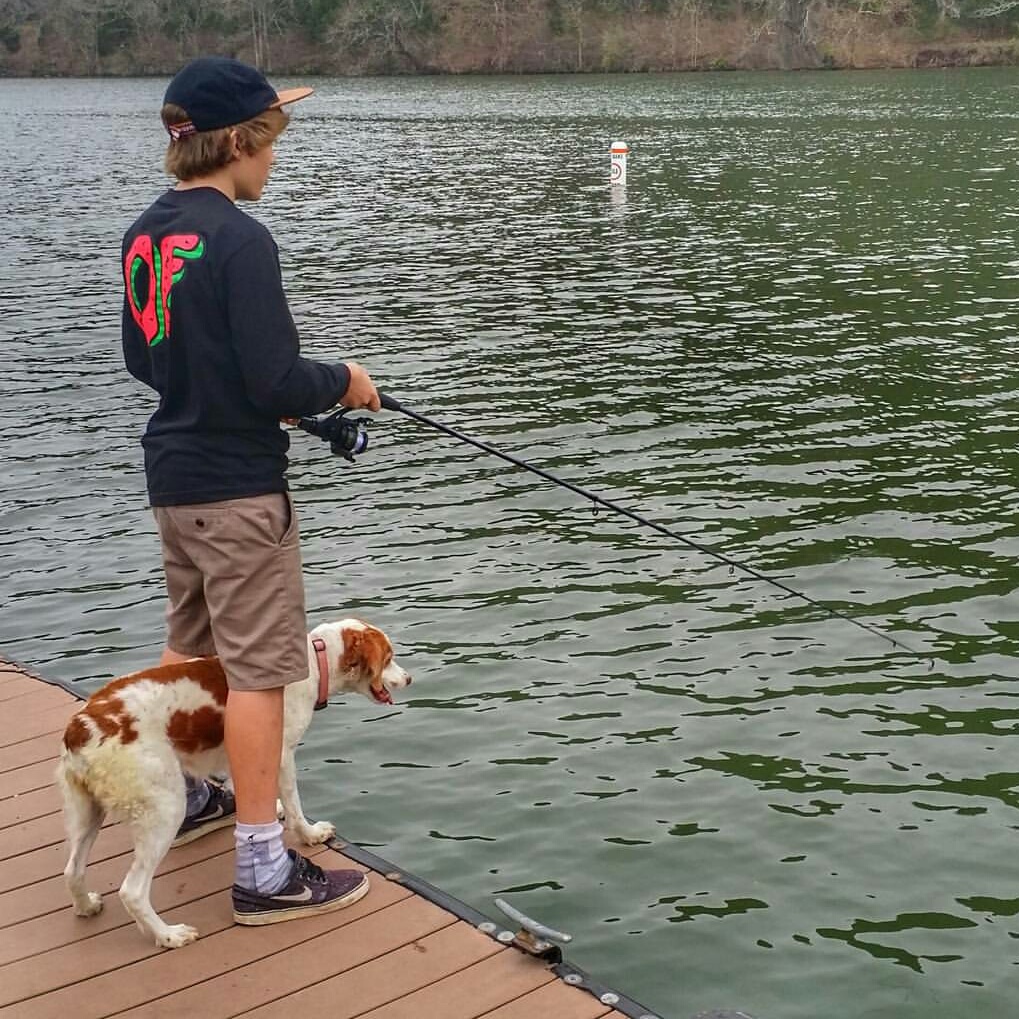 And, if the water sports in Austin weren't enough, there is every type of endurance sporting event imaginable – my favorites are probably the Spartan Race in nearby Burnett at Reveille Ranch and the Fit Foodie Race.
Of course, being so active in Austin requires the proper hydration and snacks! And that's where I can count on Texas to treat me right again! There are so many beverages and foods #FromHereForHere that make it heaven for the adventurous, healthy foodie like myself.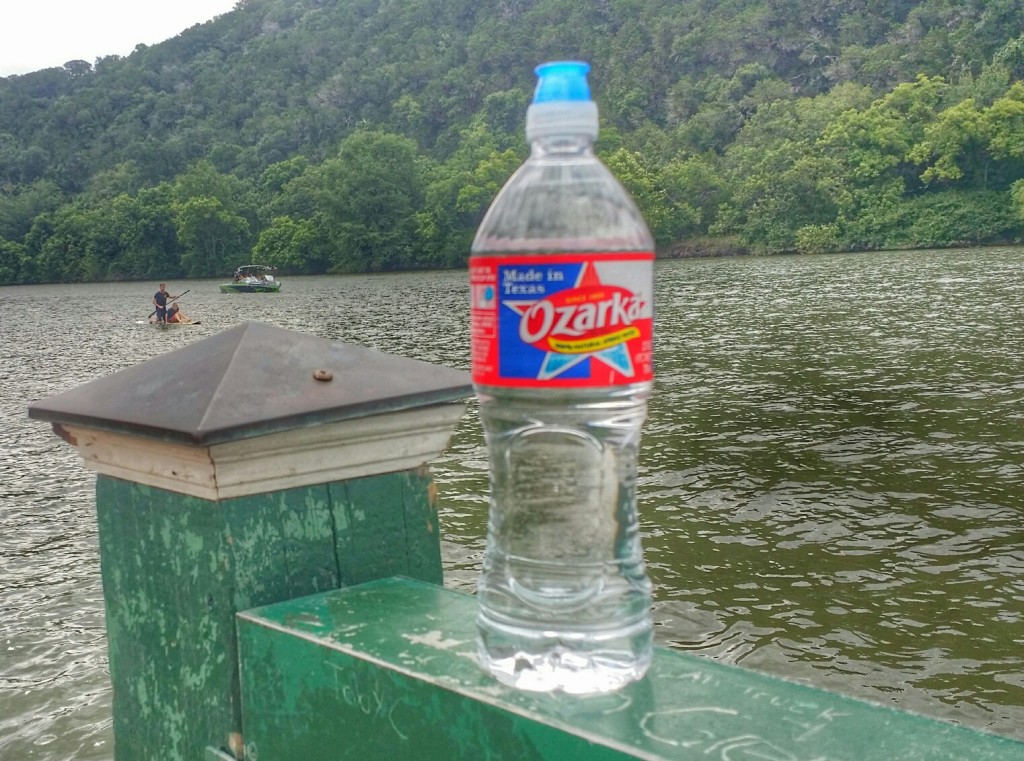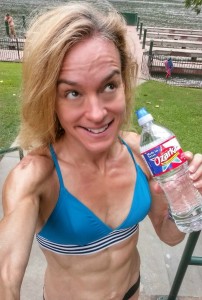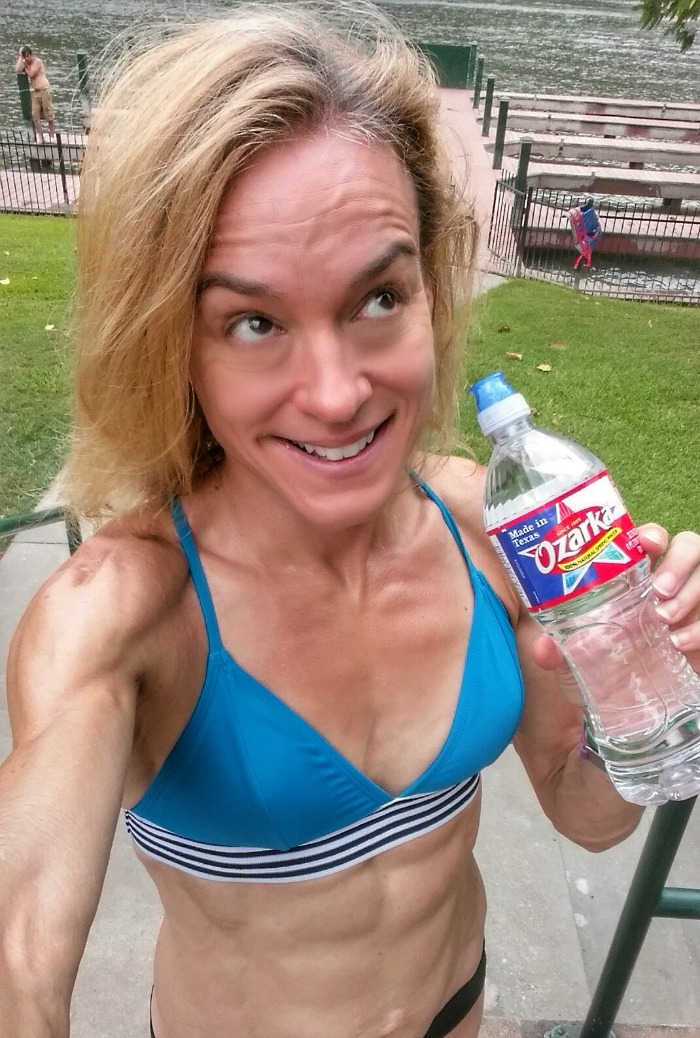 With the heat and amount of physical activity I do in the summer, I always concerned about getting enough water. At the top of my cooler you'll find Ozarka ® Brand Natural Spring Water, sourced from three nearby springs, this water has a uniquely Texan fresh taste! It's so easy to stay hydrated with this clean-tasting, crisp water that's available in convenient single-serve bottles and for Ozarka® water delivery at home.
Gotta have that Ozarka ® Brand Natural Spring Water! I try to drink an ounce per pound of my body weight, even more if I've run far or worked out hard!
All these outdoor workouts in in Austin makes a girl hungry So, I came up with a super easy nut recipe using a few local ingredients #FromHereForHere . It's perfect to pack up in a snack baggie for on-the-go munching at the lake or post run!  My Habanero BBQ Almonds use Yellowbird Sauce (a peppery condiment that puts the whoowhee hot yum on EVERYTHING, Sweet & Spicy Mustard Seeds from Taste Elevated that add in interesting mustard sweet-heat flavor and BBQ Sauce from Snow's BBQ Sauce (named best in the state by Texas Monthly staff).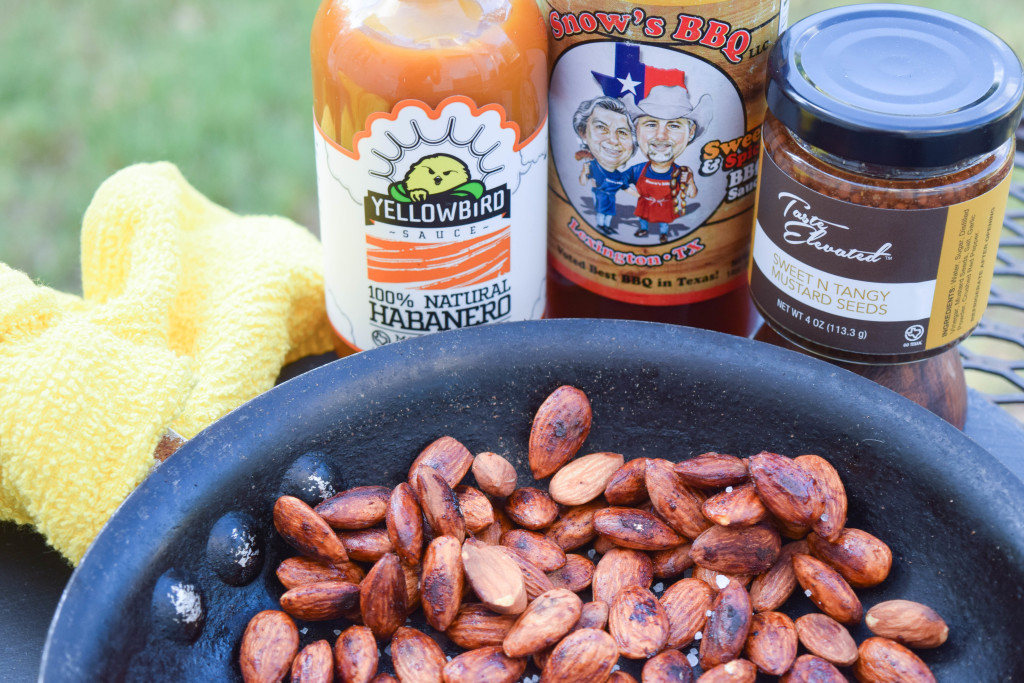 To make, heat skillet to medium- high over stovetop. add 1 cup raw, unsalted almonds. Toast, stirring constantly for 4 minutes. Stir in 1/4 cup BBQ sauce, 2 teaspoons habanero sauce, 1 tablespoon moist, jarred mustard seeds (with sauce) and 1/2 teaspoon coarse sea salt. Cook over medium-low for an additional 4 minutes, stirring constantly. Makes 1 cup.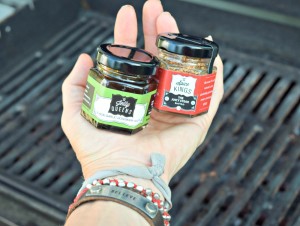 I also found some new local ingredients for my grilling creations — I can't wait to try them! The Black Garlic Rosemary BBQ Sauce from Jelly Queens  is an umami bomb of flavor! I first learned about black garlic about a year ago as an ingredient, but have never seen it used in a prepared artisan product – this stuff will send your taste buds out of bounds!  They also make a fab-looking Steak Rub that will be so on fleek crusting up my flat iron!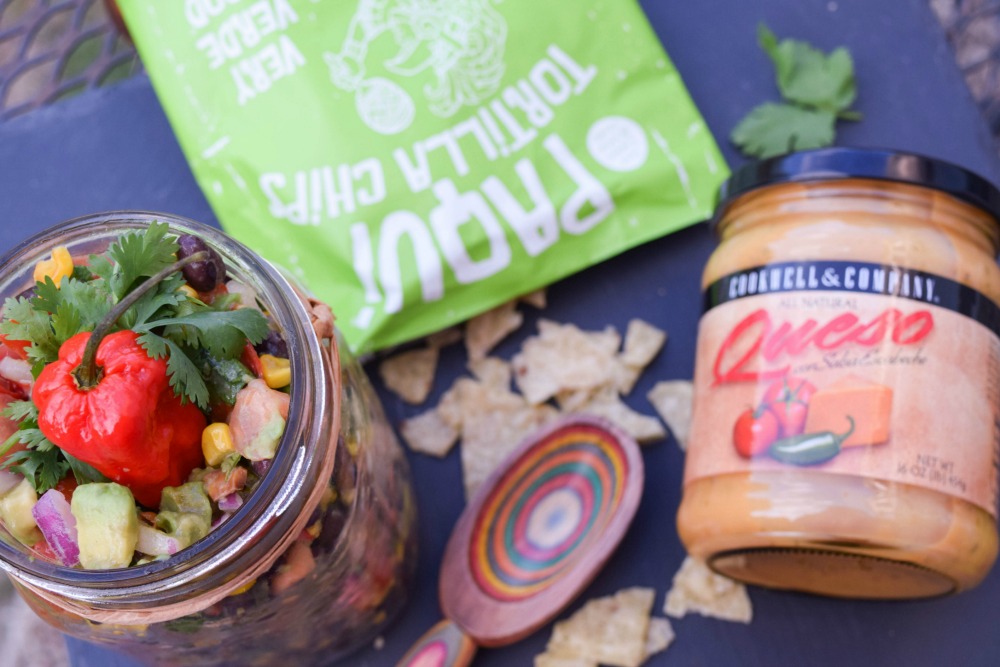 When I'm packing a picnic lunch for the lake, my recipe for Mom's Best Black Bean, Avocado & Corn Salad is ALWAYS a winner – in fact, the California Avocado Association even named it the winner in the July 4th All-American Recipe Contest in 2014! But add some local love to this salad, I take along Queso con Salsa Escabeche from CookWell & Company  (built around a blend of blue and cheddar cheeses!) and Paqui's  Tortilla Chips ("better for you" tortilla chips named after the Aztec word for "to be happy"). The family and I are snacking happy until the sun sets!
What do you love most about your hometown? Do you have any must-try local food products? Do you drink at least 8 to 10 glasses of water per day? Please share in the comments below – XOXO, Jennifer