Heading out on a summer vacation is my favorite time of the year, adventures abound, the weather is warm and the worries are few.  The only worry that might be creeping into your conscious is falling off your normal diet and exercise regimen and returning home with a few extra pounds or diminished exercise performance. Nobody wants to call these souvenirs! However, with a little mindfulness, you can enjoy the extra little indulgences that a well-earned getaway offers, sleeping in late or a slice of the best local pastries "ever," and still come home looking and feeling great.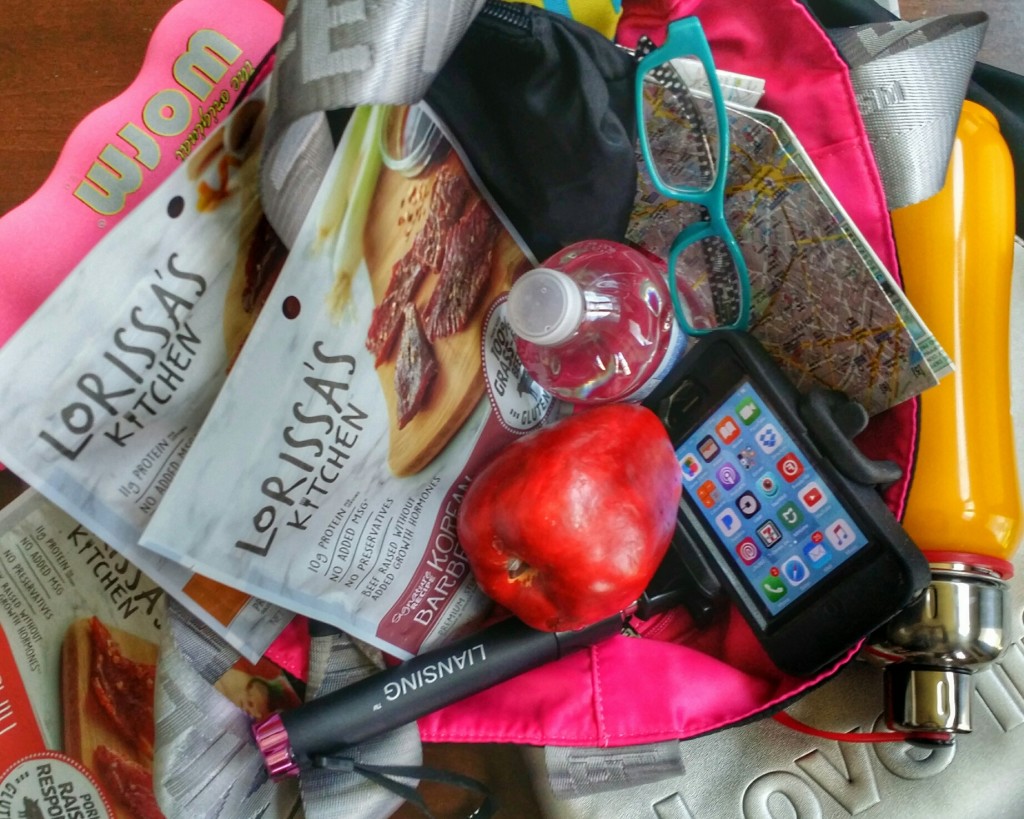 Read on to get the tips and more on Lorissa's Kitchen Meat Snacks.
Pack Healthy Protein Snacks – This tip is at the top of the list for a reason, it's essential! Lets' face it, the airport grab-and-gos and hotel mini bars are not particularly renown for nutrition – "convenience" is the key selling point. However, isn't it even more convenient to stash away healthy snacks in your purse, backpack or carry on? You'll always have a sensible option at your fingertips, whether stuck on a subway or relaxing by the pool. In addition to the nutritional perks and time-savings, you'll also be saving a pretty penny to put toward a better vacation use!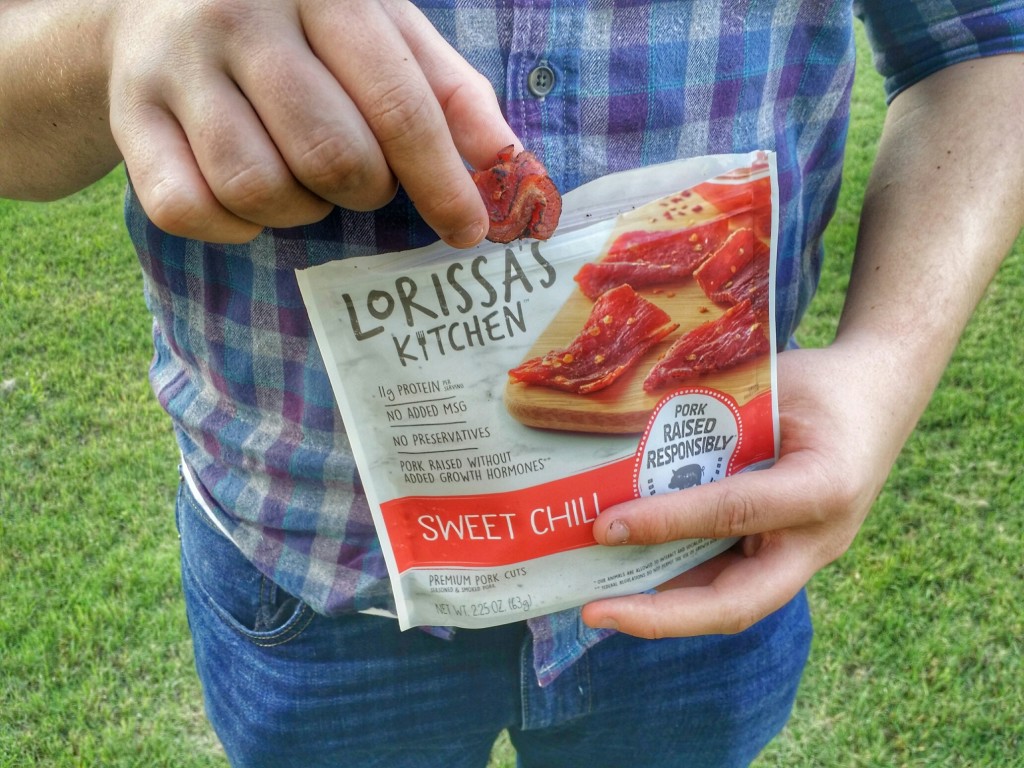 When snack planning for a vacation, protein and portability are key. Protein keeps you from the crash and burn path that sugary, processed foods lead to. Portability just means this healthy snack is not going to get crushed, melt, sour, curdle, or otherwise "expire" during transit. Nuts are always a great choice as are protein bars that don't melt. However, one of my favorite travel take-along is Lorissa's Kitchen Meat Snacks! This quality protein snack, available in four flavors, is packed in share-sized pouches and offers 10 to 11 grams of protein per serving from 100% grass-fed beef or antibiotic-free chicken or responsibly-raised pork (more details at bottom of post).
DIY Travel Meals –  With a family of five hungry teenage boys, eating out at a 5-star restaurant isn't realistic given our budget. We will treat ourselves to a couple nice dinners out, but at least half our meals are made in the room or on the fly. Breakfast is a no-brainer to eat in the hotel room, a meal on our menu "rotation) is fruit (from the free bowl in the hotel gym) paired with oatmeal made with hot water from the coffee pot (oh, you have to check out my tutorial on DIY Protein Oatmeal Packets). In my opinion, one of the best lunches while on vacation is to do a picnic lunch. Head to the nearest farmer's market or grocer and pick up cheeses, a loaf of bread and seasonal produce – this is such an educational and cultural experience when in a foreign country!  Of course, protein is a MUST to keep going through the day, this is where my Lorissa's Kitchen Meat Snacks come to the rescue again. No fridge, no worries! Plus, with no added MSG or preservatives it's so much healthier than the fatty, chemical laden cold-cuts. Head to a popular park, spread out your blanket and enjoy the no-cook feast while soaking in the sights and people-watching.
Exercise While Waiting at Airport & Attractions –This is a genius tip I actually learned from an older friend of mine. I was waiting for a flight one day and saw this woman I know walking very quickly up AND down the length of the concourse, pulling her carry-on behind. I figured she was late and just discovered she'd missed the flight. I never caught up with her, but she told me later that she was getting in her steps for the day and had made about 20 laps! Now, every time I'm early to the terminal, I follow her lead – often even running stairs, jogging, or doing bodyweight squats. The same idea can be used in long lines in amusement parks or waiting for museums and other attractions to open. Half of your group hold the place in line, while the other goes for a power walk – then swap!
Workout In and Around Hotel – Travel messes with my internal clock, so I'll often wake up too early. I'll hit the hotel gym or do a simple no-equipment needed workout in my room. Swimming, if the pool is decent. I'm also fond of my morning "sight-seeing" tours where I run up and down the neigborhoods in the couple-mile radius of my accommodations. I 've seen a lot of sights and local culture all while sneaking in a workout. If you're not sure where to go or if the area is safe, check with the hotel concierge.
Schedule Active Excursions – I'm all for getting a massage or reading by the pool, but I balance these slow-paced activities with a few high-energy excursions like surf lessons or a wilderness hike. A great example is the time my mother and I went on an eating tour through Greenwich Village, NYC. We sampled everything from gourmet cheese and cannoli to steaks and beer. We enjoyed all the food without guilt and also walked quite a number of miles on the tour all day – I figure we were in a net calorie loss at bedtime!
Become a Pedestrian –  As I hinted, walking as much as possible on vacation really helps to curb weight gain. There's a reason why so many urban dwellers are thin, and that reason is walking.  For longer distances, catching a taxi, uber, bus or subway is understandable. But, the calories burned from hoofing it from your hotel for restaurants, entertainment venues and other sight-seeing really adds up. In fact, I once came home 5 pounds lighter on a week trip to Paris where I never once felt deprived in enjoying the local cuisine.
Enjoy in Moderation – If you feel like your travel pants are getting a little tight, don't fret. Keep on enjoying the tastes and treats your vacation city has to offer, but pay more attention to moderation. Consider splitting an entrée with your travel companion, just ordering an appetizer for a main meal or saying no to that second trip through the buffet. Skipping alcohol also significantly reduces your caloric intake, but if you don't want to teetotal, strive to stick with just one cocktail.
– – – – – – – – – – – – – More About Lorissa's Ktichen Meat Snacks – – – – – – – – – – – – – – –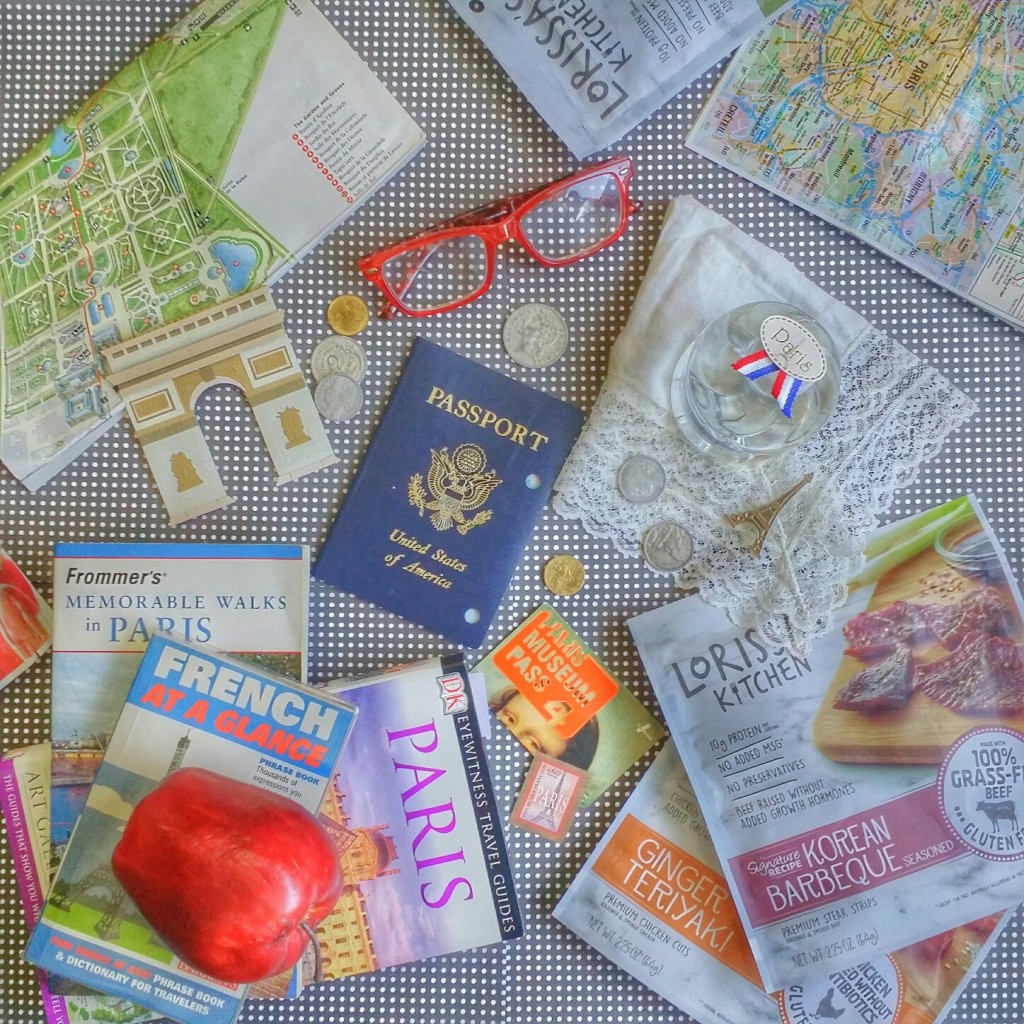 So, let me tell you more about, the premium protein snack I raved about a few times in this post. Available in four flavors, Korean BBQ, Szechuan Peppercorn (both 100% grassfed beef), Ginger Teryaki (antibiotic-free chicken), and Sweet Chili (responsibly-rasied pork), this stuff is delicious. It's has no preservatives, no added MSG, no added growth hormones or nitrates. It's also naturally gluten-free, as I've yet to see meat with gluten 😉.
With approximately 11g protein per serving, this meat snack offers the optimal amount to help manage muscles and keep hunger at bay. If you read my blog or follow my Instagram, you know I a real go-getter for three meals with 25g protein and two 10g protein snacks per day!
Stash Lorissa's Kitchen Meat Snacks in YOUR bag, they'll be there for you wherever you go and whenever you needed them. Right now (through June 15th) the company is having a Snack More, Make Snacks Less" promotion where you could WIN one of 10 tote bags filled with Lorissa's Kitchen Meat Snacks. ENTER!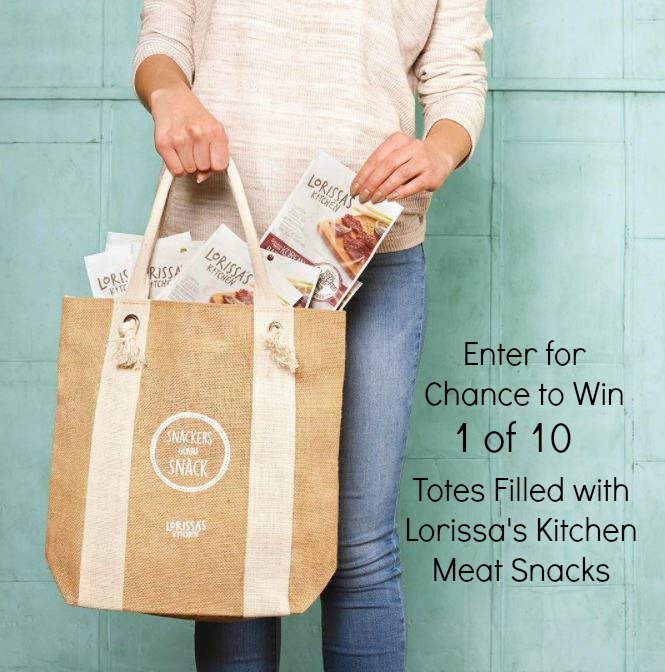 Also, learn more about the brand by following them on Instagram, Twitter and Facebook with the handle @LorissasKitchen
Also, take advantage of the opportunity to save 20% on your Lorissa's Kitchen purchase at Amazon.
Do you have a big vacation planned this summer? What is your snaking plan for travel? What's the neatest sight, landmark or happening you've seen while out on a "tourist" run? Please share in the comments – XOXO, Jennifer