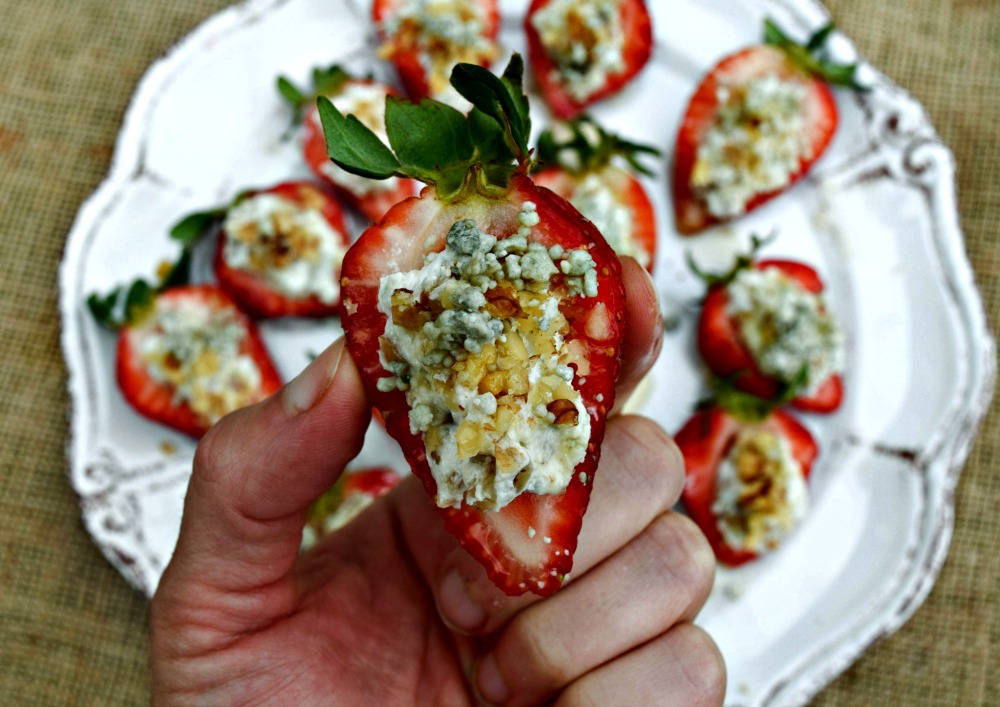 Happy Mother's Day to all the mamas out there! If you're looking to surprise your mom with a gourmet treat my Blue Cheese & Walnut Stuffed Strawberries are a bold choice! I always see chocolate-dipped berries at the store, but this sweet-savory fruit option makes the perfect prelude to dinner, especially when paired with a glass of wine or sparkling water.
This fruit and cheese recipe is also a spectacular appetizer to bring to either a fancy cocktail party or casual backyard get-together. It can just be our little secret that this healthy recipe only takes 15 minutes or less to prepare, and no cooking! And, I'm partial to Artisan Reserve Blue Cheese Crumbles from Litehouse Foods, look for it in the gourmet cheese section of your market.  Recipe at the bottom of the post!
And, speaking of healthy, yummy food, I want to announce that the Fit Foodie Race Weekend will be in Austin June 24 – 26, 2016. You DO NOT want to miss the epic event for the health-minded epicurean! I have been an ambassador for the race all three years it's come to Austin, and it is absolutely my favorite 5k! Hosted by Cooking Light and Health Magazine, this is a food and fitness lover's weekend dream come true – running, workouts and really good food!  There are pre-race parties and post-race parties and yoga, workouts, cooking demos and an over-the-top expo area – as they say, calories burned, calories earned!  The Fit Foodie Race Weekend really is amazing! Plus, this year, marathon superstars Bill Rodgers and Ryan Hall will be making appearance – I'm bringing my selfie stick! Early registration is only $35 for the 5k and entrance into the John Hancock Vitality Village.  Plus, use my discount code FITFORK for an additional 10% off! Register HERE!
Do you have a favorite fruit appetizer? Have you ever run the Fit Foodie 5k (in addition to Austin, the race is also in San Diego, Fairfax and Tampa)? Or, tell me one of your top fun 5ks! Please share in the comments below – xoxo, Jennifer 
Slice strawberries in half lengthwise, leaving some of the green top on each half.

With the back of a spoon, scoop out a very small amount of the inner flesh if the berry doesn't naturally have a significant hollowed center.

In small bowl, mix together cream cheese, blue cheese and walnuts with a small spatula until well combined.

Place about a 1 teaspoon dollop of cheese mixture in the center of each berry half, slightly pressing down to "set" in place.

Drizzle strawberries with honey and sprinkle on a bit more blue cheese, if desired.