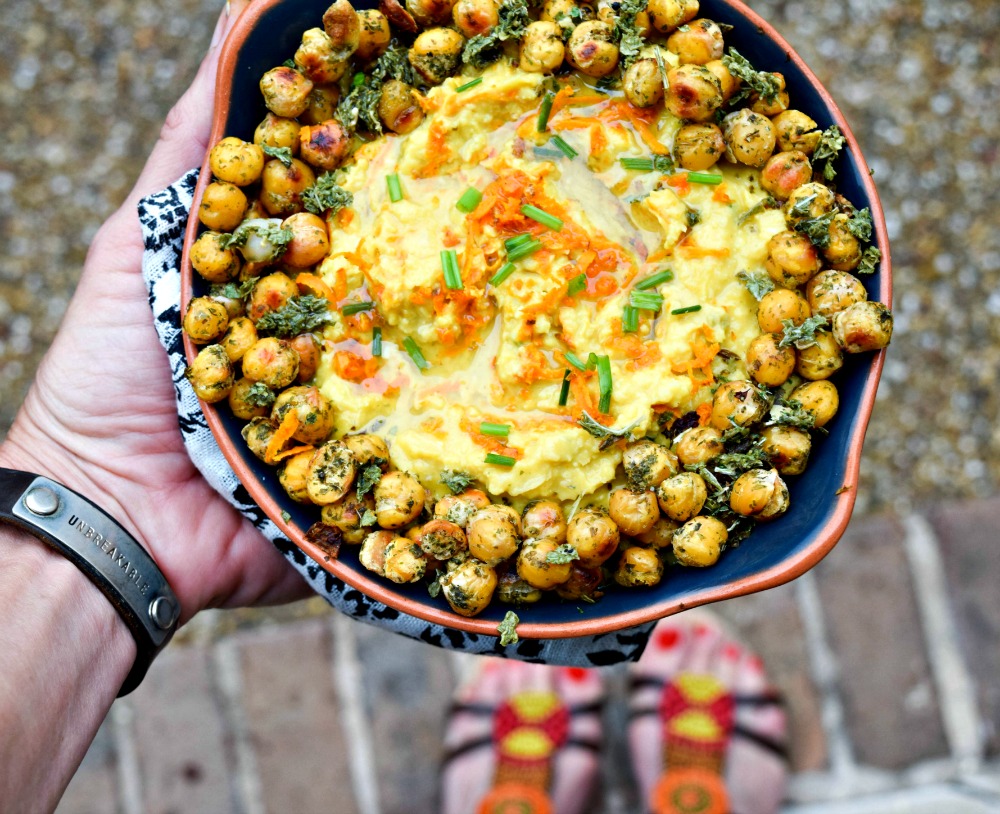 When I want a satisfying snack that tastes super yummy, has loads of health benefits, and won't have me hungry again in an hour, my "Go for Gold" Turmeric Curry Hummus with Minted Roast Chickpeas is a winner! It's definitely what to bring to a football tailgate or sports watching party to show that you are the decided victor of dips and champion of chickpeas.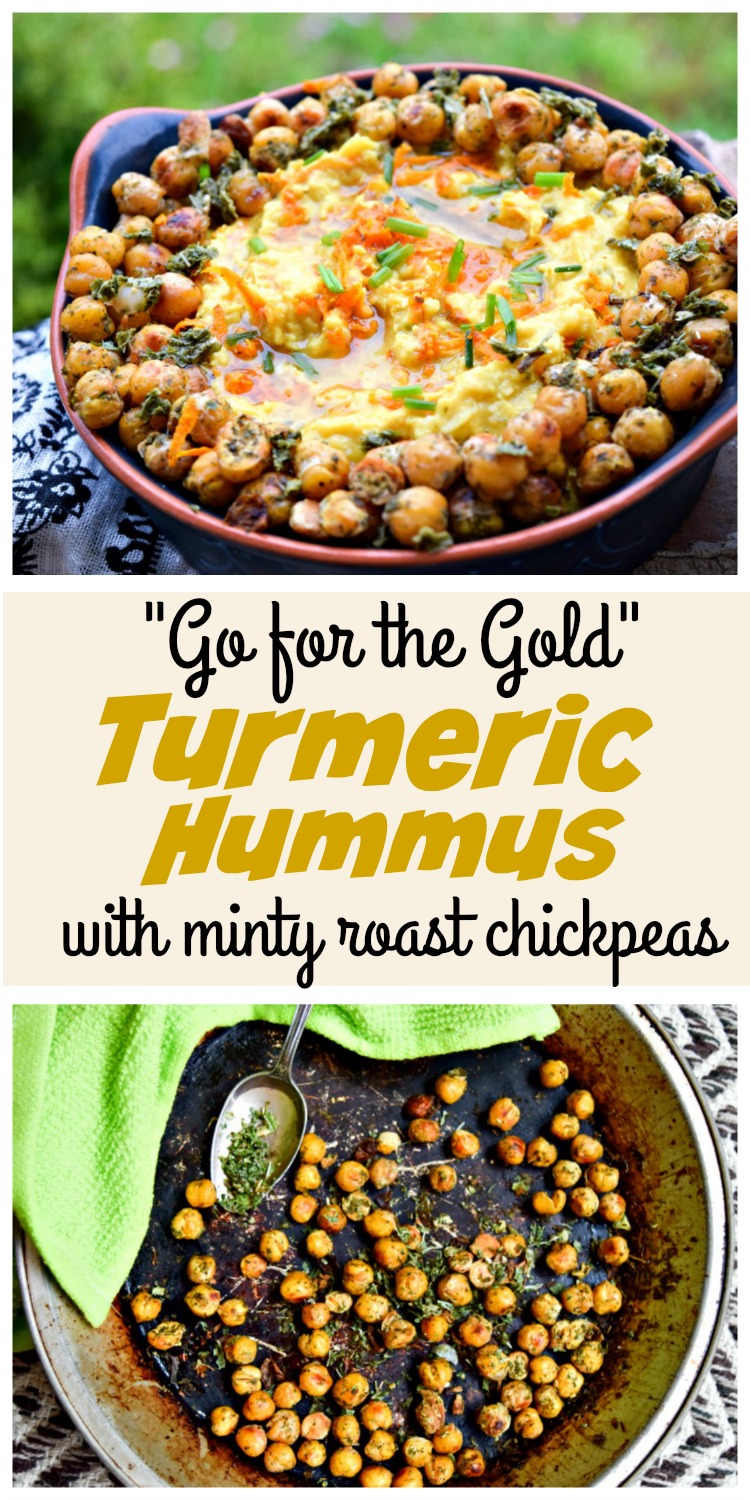 If you're not familiar with turmeric, you need to get acquainted ASAP. I've featured it before in many recipes — my Turmeric Honey "Health" Shots have been popular! While it's the primary spice in many Indian dishes (such as curry) and lends everything it touches (including hands) a golden yellow to orange hue, turmeric is consumed not just for its warm and mildly peppery taste, but also for the many purported health benefits.
For example, numerous studies suggest that turmeric's active component, curcumin, helps alleviate or reduce the incidence of everything from certain cancers to depression – and it's is highly touted as a natural pain-killer and anti-inflammatory. I take turmeric often to recover from hard workouts faster, I'm a fan of these Curcumin Capsules (from Turmeric Root Extract) sold by NOW Foods.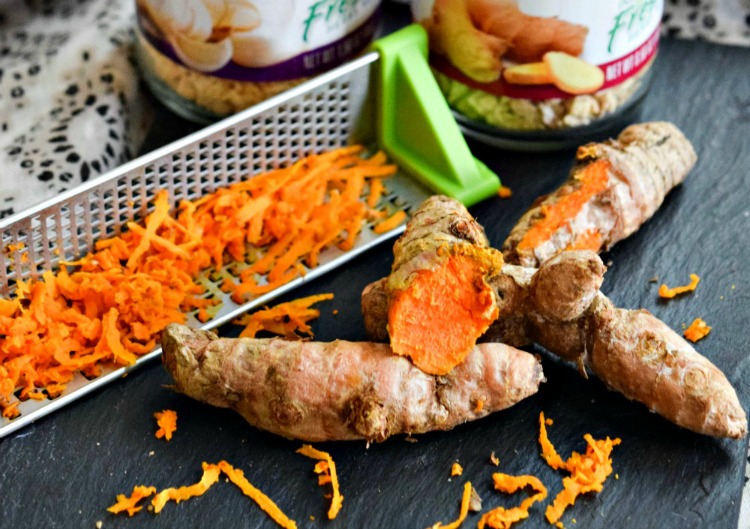 .
I do advise using fresh turmeric along with the dried ground turmeric as directed in the recipe. The fresh has a more pleasingly distinctive aroma, flavor and health benefits in root form (technically a rhizome like ginger) than from the ground powder.  However, the ground turmeric helps distribute the golden-orange color evenly. If you're looking for fresh turmeric, ask your produce manager to stock it from Frieda's.

Make a big batch and portion into individual grab-and-go containers to stash in lunchboxes, backpacks and gym bags along with veggie sticks or crackers. However, dipping stuff INTO hummus isn't the only way to enjoy it! My two other serving suggestions are to 1) pile up high on whole grain bread or a wrap along with other veggies to make a filling sandwich and 2) to toss with warm pasta or vegetable noodles (like "zoodles") as a creative sauce.  I wasn't sure if the sauce idea would work one night when fixing a "clear the fridge" dinner in a pinch — but it most certainly did!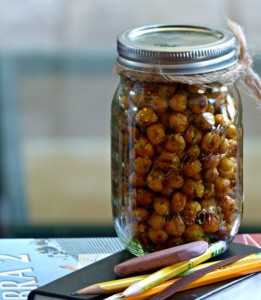 Also, if you love a crunchy, salty snack the roasted mint chickpeas that I've used to garnish the top make a fantastic snack on their own.
Just double up that part of the recipe and keep the extra batch for snacking right off the pan – or to use as grain-free "croutons
By the way, I originally developed this recipe for Litehouse Foods using their Instantly Fresh Herbs! Check it out.
Do you use turmeric in your diet, what is a favorite recipe? If you're at a party, do you go for the dips or the desserts? What's on your upcoming fall season race season? Please share in the comments, XOXO — Jennifer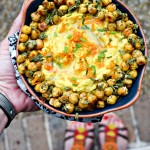 Servings

Prep Time

6

servings

40

minutes
Servings

Prep Time

6

servings

40

minutes
Servings

Prep Time

6

servings

40

minutes

Servings

Prep Time

6

servings

40

minutes
Preheat oven to 400 F degrees.

After draining and rinsing chickpeas, place them on a paper towel and fold over, gently rubbing them. This will remove any remaining "skins."

Toss mint and salt together in small bowl. Take ½ cup of chickpeas and toss around with olive oil until coated. Add chickpeas to bowl with mint and shake around until dusted.

Place chickpeas in oven and bake, tossing occasionally, for 30 to 40 minutes or until golden and crunchy.  Remove from oven and set aside to cool on pan.

Place remaining chickpeas, tahini, olive oil, lime juice, garlic, ginger, curry powder, dried turmeric, fresh turmeric, remaining salt and pepper in a food processor and blend till smooth and creamy. If needed, add a bit of additional lime juice or water to adjust the consistency.

Serve with a drizzle of olive oil and roasted chickpeas.