This shop has been compensated by Collective Bias, Inc. and its advertiser. All opinions are mine alone. #SweetNewYear #CollectiveBias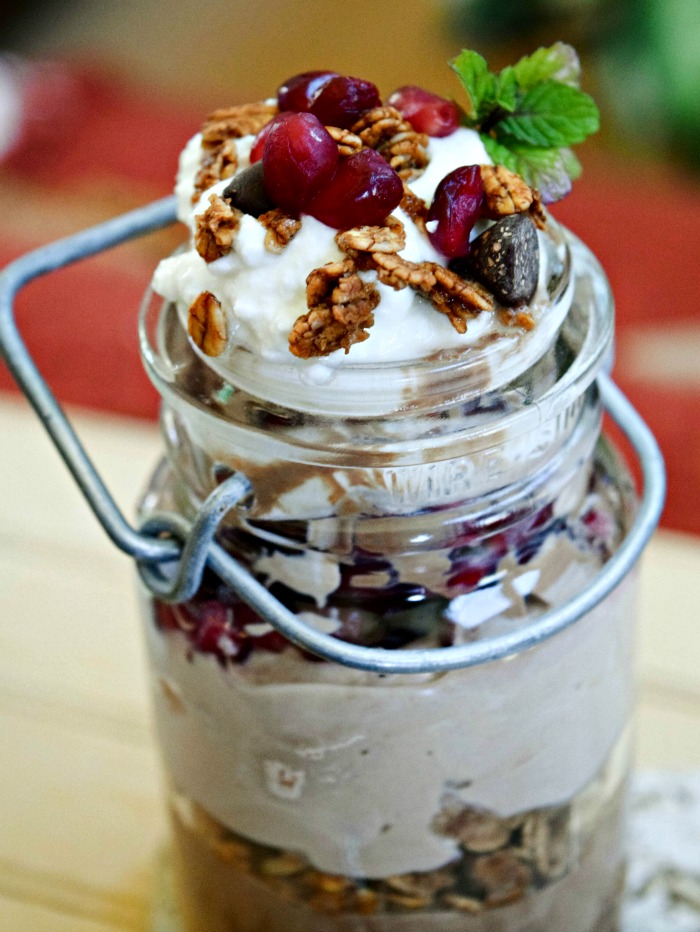 I have a serious sweet tooth. It's not a secret that I like to start (and end) my day with a little bit of chocolate goodness. Studies have shown that certain flavonoids in chocolate may decrease recovery time and improve endurance in athletes and, goodness, how I hope that is true! However, munching down on chocolate candy or ice cream isn't really going to help me achieve my 2016 health and fitness goals – there's a lot of extra sugar and fat I don't need in those treats.  When I eat less processed sugar, I have more room in my diet for protein, vegetables and healthy whole grains and that's what keeps me fueled up to kick butt on a daily basis.
However, I've still been enjoying my daily chocolate but living life with less sugar thanks to Truvia® Natural Sweetener Spoonable. This zero-calorie, stevia-based sweetener is ideal for my healthy lifestyle and keeps me training smart for all my fitness goals – to get on the Spartan Race podium, to nail that next yoga pose, to bring my 5k road race time back down to freaking fast.
Aside from the great taste of Truvia® Natural Sweetener Spoonable and help it gives me to reduce the unnecessary sugar in my life, I also appreciate the product's versatility. From a spoonful in my coffee or sprinkled on grapefruit, there are so many uses.  Two favorite other uses revolve around my chocolate obsessions – the first is to stir right from the jar into unflavored, plain Greek yogurt (to avoid the added sugar that many brands have) and the second is to make a "better-for-you" chocolate syrup that can be poured on / into  everything from hot almond milk, protein pancakes, fruit slices, and yogurt.  When I stir this chocolate syrup into my Greek yogurt, it's like eating ice cream – but with lots of protein and very few carbohydrates.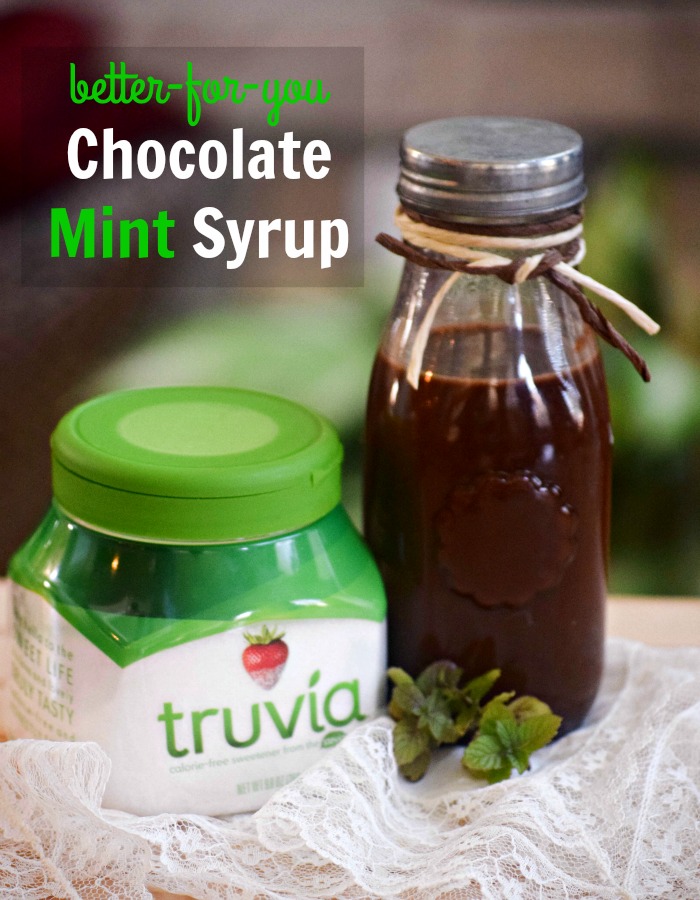 Today, I'm sharing the recipe for "Better-for-You" Chocolate Mint Syrup (which can easily be tweaked without the mint) and my favorite ideas for Greek Yogurt Parfaits. I could eat a chocolate Greet yogurt parfait at breakfast, post-lunch and as a bedtime snack . . . and sometimes have!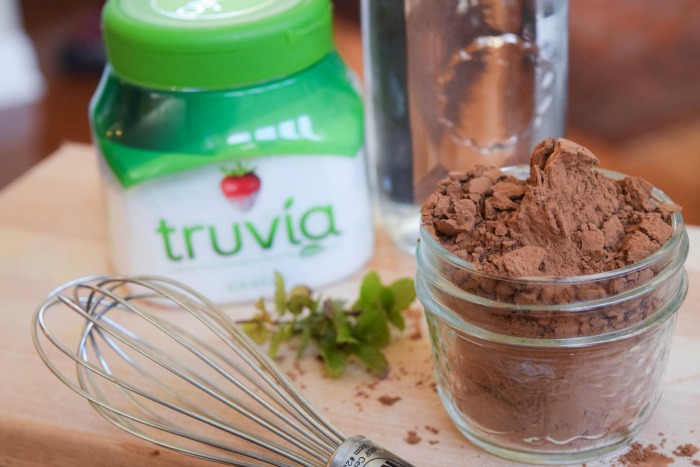 "Better For You" Mint Chocolate Syrup (Stevia)
2 tablespoons chopped fresh mint, or freeze-dried mint
1 cup water
6 tablespoons Truvia® Natural Sweetener Spoonable
1 cup unsweetened dark cocoa powder
1 teaspoon vanilla extract
Add mint to teaball / tea infuser and drop in small saucepan with water. Bring water to a rolling boil over medium high heat for 1 minute; turn off heat and let steep for 5 minutes.  Remove and discard mint.
Mix in Truvia Spoonable into hot water, stir until dissolved. Turn burner back on to medium low, whisk in cocoa powder until incorporated and smooth, cooking for about 1 to 2 minutes.
Remove from heat, stir in vanilla. If needed whisk in a tiny bit more water to achieve desired consistency if too thick.
To make "regular" non-mint chocolate stevia syrup, simply bring water to boil in first step – but omit mint.
May store in refrigerator for up to a month. Makes about 12 ounces.
As I mentioned,  "Better For You" Mint Chocolate Syrup is the bomb drizzled over Greek yogurt, but even better STIRRED in! Check out these yummy ways, I used the chocolate syrup made with Truvia Spoonable Natural Sweetener:
As a Chocolate Greek Yogurt Parfait layered with syrup, granola, nuts and fruit –  I used pomegranate and cocoa granola, but you can substitute your favorite ingredients!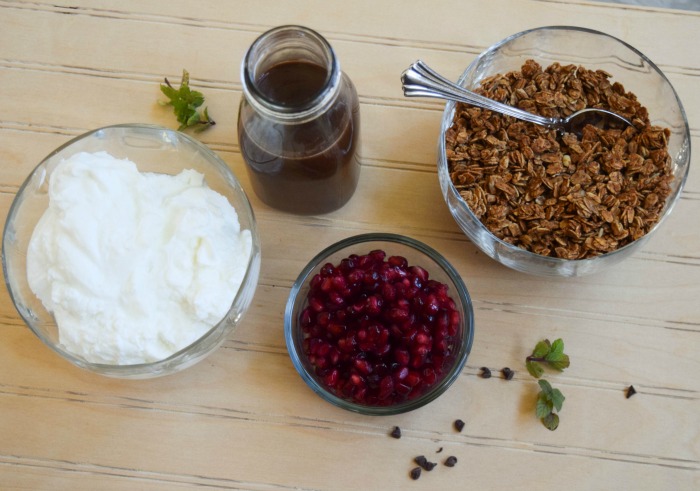 As Chocolate Ombre Greek Yogurt Shooters — they are so tastefully trendy and good for you. Start with a big dollop of syrup in the bottom of glass and then spoon in yogurt that has been mixed with varying amounts of chocolate syrup to achieve gradient shades of chocolate brown.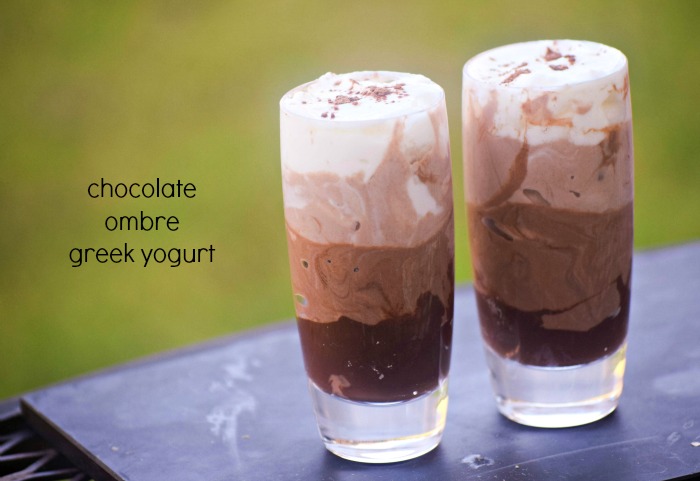 It's easy to find Truvia® Natural Sweetener Spoonable on the baking aisle at Walmart – it comes in a 9.8 ounce container, so there are plenty of scoops for your beverages, snacks and recipe ideas. Save SAVE $1.50 on any ONE (1) package of Truvía Natural Sweetener (excluding 7 ct.), Truvía Baking Blend or Truvía Brown Sugar blend – get the coupon HERE.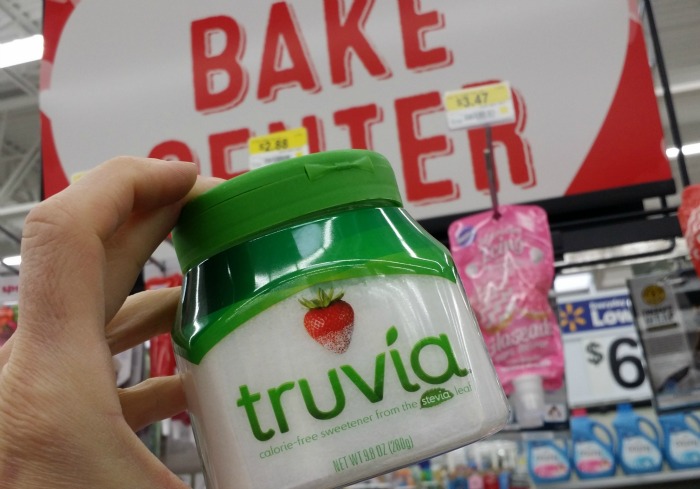 Check out other delicious recipes using Truvia Spoonable HERE and request your free sample!
Do you have a health or fitness goal to share? OR, what would you drizzle chocolate syrup on? Please share in the comments below — XOXO, Jennifer