Wondering "what to do" when it's meal time and a sweet potato plus a few minutes is all 'ya got?  Get your finger off the panic button; I sharing 25 ways to top your 'tater in 10 minutes or less that will squash your hunger in a wholesome, healthy way.
The good news is that a sweet potato is a very nutritious base for your meal, packed with complex carbohydrates for sustaining energy and a mega dose of vitamin A , more than 400% RDA for a medium spud. Sweet potatoes are also an abundant source of other vitamins and minerals like potassium and dietary fiber. Tired of traditional orange sweet potatoes? Add a punch of unexpected color to dinner with a purple sweet potato! According to the USDA, these vibrant veggies have up to 4x the antioxidant powers of a regular white spud.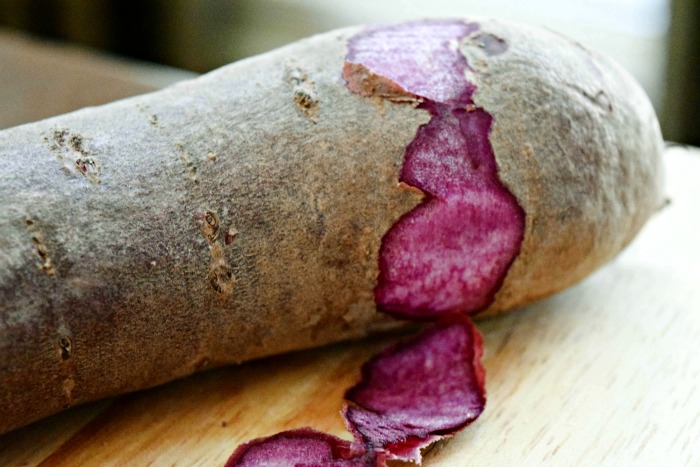 The downside is that traditional "baking" or "roasting" a purple or orange sweet potato can take up to an hour. But again, don't fret!  Use the microwave to fix up your sweet potato in a flash. Wash and dry your sweet potato and rub the outside with a dab of oil olive and season with salt. Use the tines of a fork or small paring knife to jab little holes all around to allow air to escape during the cooking process (and prevent a 'tater explosion)!  Microwave cooking time varies widely depending on the size on the potato and power of your machine. I suggest starting with 4 minutes, setting your microwave to high. Turn the tuber halfway through and if still firm, continue to cook in 1 minute increments until soft and yielding.
All topping suggestions below start with a microwave "baked" sweet potato and are for one serving, but feel free to double, triple, quadruple or otherwise multiply for a crowd.
Plain Jane:  Fluff pulp of sweet potato, drizzle with 1 tablespoon quality olive oil and sprinkle with sea salt.
Sloppy Joe:  Add ¼ pound cooked ground beef to ¼ cup tomato sauce, 1 teaspoon brown sugar, 1 teaspoon apple cider vinegar, ½ teaspoon onion powder and dash of chili powder. Heat until warm and add to sweet potato.
French Onion: Sauté ½ sliced sweet onion in teaspoon of olive oil  6 to 8 minutes until caramelized, add splash of beef broth and stir until heated.  Add to sweet potato and top with shredded Gruyere cheese.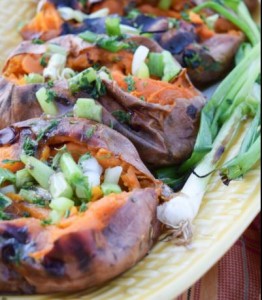 Honey Mustard Sweet Potatoes: Whisk together 2 teaspoons each of Dijon mustard, honey, apple cider vinegar and drizzle on baked sweet potato. Sprinkle with chopped pecans.
BBQ Brisket & Beans:  Chop up a couple slices of leftover beef brisket and ½ cup cooked pinto beans.  Stir in 3 tablespoons of barbeque sauce. Heat mixture in microwave, pile on potato and top with pickles and sliced onions.
Chicken Verde Enchilada:  Add ½ cup shredded rotisserie chicken to 2-ounces drained diced green chiles (from can), ½ cup green enchilada sauce and ½ teaspoon ground cumin.  Heat mixture in microwave, spoon over sweet potato, and top with light sour cream.
Greens, Eggs & Ham: Add one teaspoon olive oil to skillet and sauté 1 cup fresh spinach and 2 ounces chopped cooked ham until wilted and warm. Transfer mixture to baked sweet potato. Add egg to skillet and poach or "fry" in baking spray sunny side up. Add egg on top of ham and greens mixture, season to taste.
Tuna Nicoise: Top baked sweet potato with 3 ounces canned albacore tuna, chopped olives, green beans, tomatoes and hard-boiled egg slices. Drizzle with balsamic vinaigrette.  
Sweet Bunny: Sauté ½ cup shredded carrots and ½ cup shredded parsnips with 1 tablespoon butter, teaspoon brown sugar and splash of orange juice.  Top with Greek yogurt and pea shoots.
Beef Chuck Wagon: Mix together 3 ounces shredded cooked beef (like chuck roast), ¼ cup thawed frozen corn, ¼ cup cooked beans, ¼ cup salsa and reheat in microwave until hot. Add to potato and top with cheddar cheese and jalapeno slices.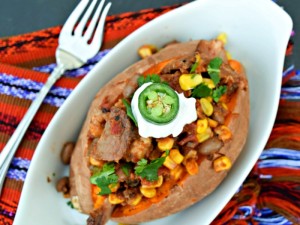 Unique Greek:  Stir together ¼ cup cottage cheese with ¼ cup plain Greek Yogurt, adding a dash of garlic salt and splash of lemon juice to taste. Top with a salad of sliced cucumber, red onions, chopped tomatoes and sliced black olives.
Turkey Meatball Marinara: Heat 3 to 4 prepared turkey meatballs as directed on package, place on baked sweet potato.  Douse with heated marinara sauce and sprinkle with Parmesan cheese.
Hella Cauliflower Hummus: Add 1 cup of cauliflower florets to baking sheet, drizzle with olive oil. Roast at 400 F degrees for 10 minutes. Add generous dollop of hummus to baked sweet potato and top with roasted cauliflower.
Pesto Zoodles & Chickpeas: Spiralize a small zucchini (or julienne chop) and microwave with ½ cup cooked chick peas in microwave until heated, about 2 minutes. Stir in 2 tablespoons prepared pesto and top on potato.
Garden Guacamole:  Mash together ½ avocado and ¼ cup thawed frozen peas, season with garlic salt and splash of lemon juice. Stir in 1 tablespoon chopped red onion.  Dollop on baked potato and top with chopped tomatoes.
Peanut Thai Shrimp:  Thaw 3 ounces pre-cooked, deviend shrimp. Quickly sauté in 1 teaspoon olive oil along with ½ cup shredded carrots and 2 tablespoons chopped red onion until just heated. Stir in 1 tablespoon soy sauce, 1 tablespoon lime juice, 1 tablespoon peanut butter and Sriracha sauce to taste. Add mixture to potato and top with additional peanuts if desired.
24-Hour Diner Breakfast: Top baked sweet potato with one scrambled egg, 2 slices of bacon and a drizzle of maple syrup.
Broccoli Cheese Please:  Add 1 cup steamed broccoli over baked sweet potato and top with ½ cup "light" broccoli cheese soup from deli or jar. Add shredded cheddar and chopped green onions to garnish.
Mojo Black Bean Mango:  Make relish of 1/3  cup chopped mango, 2 tablespoons chopped red onion, 1 tablespoon chopped cilantro, 1 teaspoon minced jalapeno and juice of ½ lime. Add ½ cup cooked black beans to sweet potato and top with relish.
Blue Cheese Buffalo Chicken: Mix 3 ounces chopped rotisserie chicken with 1 teaspoon Tabasco sauce. Add to top of baked sweet potato and sprinkle with 2 tablespoons blue cheese crumbles. Microwave for 1 to 2 minutes until cheese melting. Serve with celery sticks.
Feta Orange Crush:  Scoop out pulp of baked sweet potato, mix with 1 to 2 tablespoons fresh orange juice and 1 teaspoon orange zest.  Top with 2 tablespoons Feta cheese crumbles and 2 ounces of mandarin orange segments, broil for 1 minute until cheese bubbling.  Top with chopped mint.
Maple Salmon Pecan: Top baked sweet potato with 4 ounces cooked salmon chunks, 2 tablespoons pecan pieces and a drizzle of maple syrup.
Enchilada Sauce Y Mas: Top sweet potato with grated pepper jack cheese and shredded pork. Pour generous amount of warm enchilada sauce on top and sprinkle with pico de gallo.
Coconut Curry: Stir together 1/3 cup Greek yogurt with 1 tablespoon coconut "butter," 1 teaspoon honey and ¼ teaspoon each curry powder, cumin, turmeric and red pepper flakes. Top sweet potato with 1 cup of favorite steamed veggies and pour on sauce.
What is your favorite way to top a sweet potato?  Which of these ideas do you like most?! Please share in the comments below – XOXO, Jennifer